A few days after Google CEO Eric Schmidt revealed that the company had discarded the idea of buying a newspaper, Google co-founder Sergey Brin offered some encouragement for struggling print operations.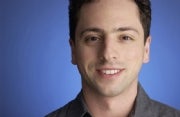 If newspapers continue to experiment with new ways of generating revenue, Brin said, they're bound to find a successful formula, just as Google found a way to make money off of search results.
Google first effort to monetize search results was to post ads for related books from Amazon next to searches. The results, he said, made just enough to cover pizza for the developers behind the project. Nonetheless, Google turned down lucrative offers to run noisy banner ads in favor of developing Ad Words, the low-key advertising system that's turned into the industry's unbeatable juggernaut.
The success sprang from the Google founders' confidence that accurate search results were valuable content and that they just needed to find the best way to unlock that value. Since newspapers also produce valuable content, Brin said, they should be able, with enough experimentation, to find a way to make money on the Web as well.
I'm sure lots of my colleagues at news organizations will see Brin's encouragement as hollow. Lots of people say that Google and Craigslist are responsible for newspapers' death spiral and should take some responsibility to fix the situation.
I spent 15 years working at newspapers, so I have a lot of sympathy for and concern about their situation. But I don't agree that Google buying The New York Times (as some speculated was in the works) would either work well or that Google somehow has a moral obligation to buy a newspaper, as some people have argued.
I think what Brin is suggesting, while it's undoubtedly cold comfort to laid off journalists, is correct. We're in a no-longer-so-new world on the Web and content producers, like newspapers and magazines like PC World, have to experiment, probably radically, to find a model that compels people to pay for their product.
With Google's deep pockets, they could probably buy the Times and barely notice the expenditure. But that saves just one paper. (And really, given the power Google already has, do we really want it to own the country's biggest paper?) Such a purchase would be no more of a long-term solution than the federal government bailing out GM. In the long run, Detroit has to figure out how to make cars people want to buy and news organizations have to figure out how to make people pay to see the news.
Lots of journalists like to complain that Google is making billions off their content, without helping to pay for the reporters and editors who produce it. But the fact is that no news organization wants to pull its content out of the Google's database and lose all the traffic that the search engine generates.
The situation is really simple: When we journalists do good work, search engines do us a favor by helping people find it. Figuring out a way to make money from those visitors is our responsibility, not Google's, or Yahoo's, or Microsoft's.