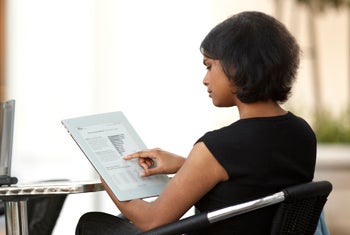 Plastic Logic was on hand at yesterday's D7 session to demonstrate its highly anticipated, super-thin e-book reader. Expected to launch early next year, this Kindle rival is designed primarily for business users. It's able to display all kinds of documents including Word, Excel, Power Point, and PDF files. Since the reader's first showing in 2008, the device has always sported WiFi, but Plastic Logic CEO Richard Archuleta said at D7 the company has added 3G connectivity to the reader. Plastic Logic also plans to offer its own dedicated online store to purchase books and magazines.
Unlike Amazon's Kindle, Plastic Logic's reader is all about the touch screen; it doesn't have any navigational buttons. Page turns are accomplished by an iPhone-style swipe, and the device features a navigational toolbar on one side of the screen, and tabs to launch recently opened documents on the other.
The device is about the size of an 8.5 x 11-inch sheet of paper, similar to the recently released Amazon Kindle DX. The reader model used by Archuleta at D7 was rigid, whereas as previous versions were flexible enough to bend like a sheet of paper. Archuleta says the company decided to go with a more rigid device after learning from focus groups that flexible readers made users "a little bit nervous" about using a flimsy device.
While the device looks impressive, there are still a lot of unknowns about Plastic Logic's reader. So far the company doesn't have a 3G carrier lined up in the United States, or at least they aren't saying if they do. It's also unclear if the device will come with a Web browser or just use its connectivity functions for e-commerce. As far as cost goes, Archuleta told D7 attendees the market would set the price, and wouldn't say if the device would be under or over $500. Translation: It's not going to be cheap. There's no word on storage capacity either, so it's unclear how many documents and books the reader can hold at one time.
The yet-to-be-named Plastic Logic e-book reader will be grayscale at launch, but Archuleta says a color version is in the works. The device looks like a great challenger to the Kindle, and is so much thinner because it uses plastic instead of the traditional silicon transistors found in most computing devices.
Check out this interview with Plastic Logic's Richard Archuleta to see the e-book reader in action: