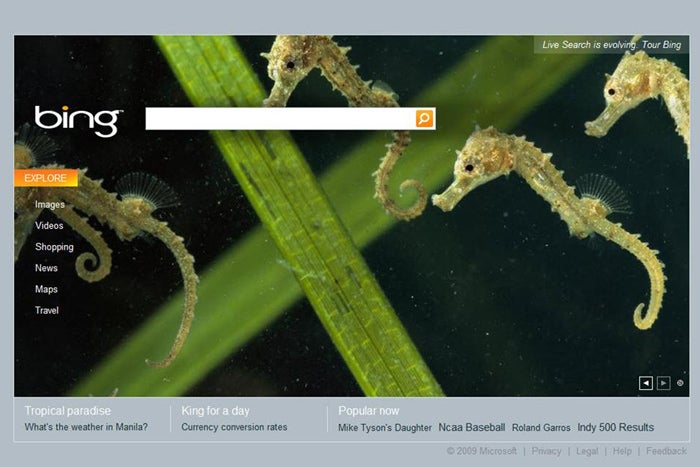 Microsoft's latest vehicle for achieving the elusive goal of Web dominance is Bing. Previously known as Kumo while in development, Bing replaces Microsoft's Live Search brand and carries forward the company's strategy for taking on Google and Yahoo. Besides introducing a new look to Microsoft's search interface, Bing adds a spruced-up navigation for search results, including a new left-hand navigation bar, a hover feature that lets users preview Web pages before visiting them, and a categorized search feature that groups search results by topic category.
Microsoft's CEO Steve Ballmer publically demonstrated Bing for the first time Tuesday at the D: All Things Digital technology conference. Bing goes live to the public beginning on June 3; it will be phased in over the course of several days.
Bing: The Un-Google Search Engine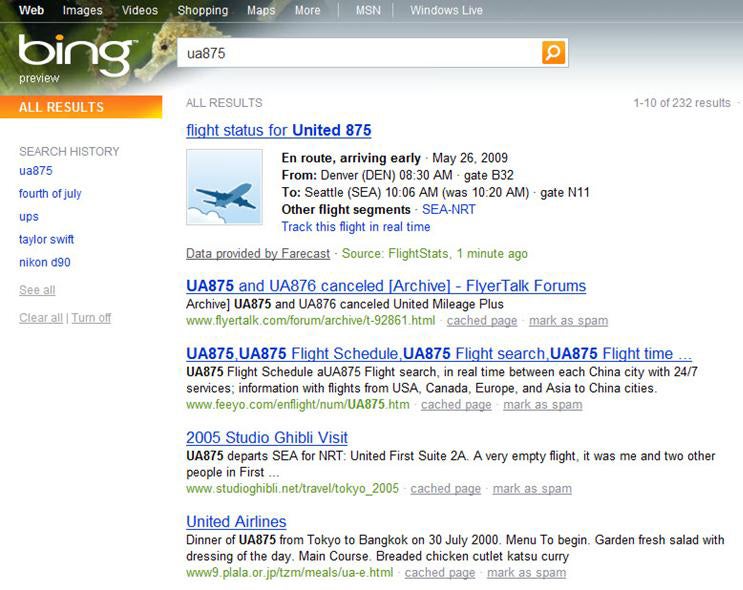 Among Bing's core improvements over Live Search, according to Microsoft, are its capability to scour the Web more deeply and to deliver more-relevant search results faster. But the most striking feature of Bing — setting it apart from Live Search and what Google and Yahoo deliver — is the way it parses and displays search results.
Whereas Google emphasizes a stark, quick-loading design and a list of highly relevant search results, Bing's search results are organized into what it calls Search Categories — subdivisions such as Web, Maps, Images, and Health. In a particular search, Bing creates Search Categories dynamically in response to the search query. Bing also packs some new smarts: technology that Microsoft acquired through its purchase of the firm Powerset, which attempts to figure out the searcher's intent rather than relying heavily on matching keywords to Web documents.
Stefan Weitz, director of Live Search for Microsoft, calls Bing a "decision engine" and says that it can help you explore, research, and find what you are looking for. "Google has done a great job of turning the word Google into a verb," he says. Bing is less about repeat searches, which Weitz sees as the key feature of Googling, and more about finding the answer you're looking for the first time or helping you refine that search from the search results page.
Microsoft has struggled in the past to compete with Google for search market share. According to Nielsen Online, Google owns 64 percent of the U.S. search market, with Yahoo at 16.3 percent, and Microsoft Live Search at 9.9 percent. Microsoft will attempt to turn those numbers around in the coming weeks with a reported $100 million marketing campaign for Bing, according to a report in Advertising Age.
Will Bing's overhauled search engine and Microsoft's advertising investment woo the masses to Bing? My first impression after testing the preview release of Bing, called Kumo, is that it stands a good chance of succeeding. (Read my hands-on evaluation of Bing for more information. And see our slideshow, "Bing: A Visual Tour of What's New" for a closer look at the new features.) Still, the challenge of sharply reducing Google's market share is daunting.