At last, Bing has arrived. I tested a preview release of Microsoft's new search/decision engine, previously called Kumo, to see how well it compares with its predecessor, Live Search. Here's a breakdown of its new features, followed by a quick appraisal of how successful each feature is. (For an image-friendly look at some of Bing's new features, see our slideshow, "Bing: A Visual Tour of What's New.")
New Explorer Pane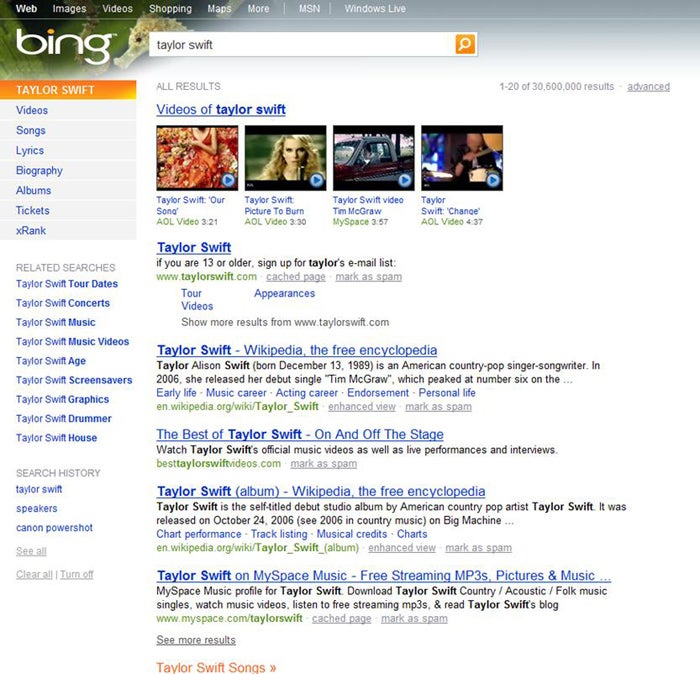 Bing's new look focuses on a left-hand navigation menu called the Explorer Pane. This extra column of content includes Quick Tabs that break searches down into Web Groups relevant to your search. For example, a search on "Nikon D70" triggers the Explorer Pane to create Quick Tabs for shopping, accessories, and videos all based on what your intent might be. Under Quick Tabs in the Explorer Pane are additional subcategories such as 'Related Searches' and 'Search History'; the latter, as its name implies, shows you recent searches. Microsoft asserts that 50 percent of all searches are repeats, and that providing a session history therefore offers a shortcut to results of redundant searches.
My take: The Explorer Pane can be extremely useful, which may make the trade-off of cluttering up the search results page worthwhile. But in my initial tests, Quick Tabs often steered me to Microsoft services such as Bing Shopping, Bing Travel, MSN Autos, and Bing health information. It may be that those Bing sites offer the best content, but I get suspicious of any search engine that habitually gives its own links precedence over others'.
Search Results Now Categorized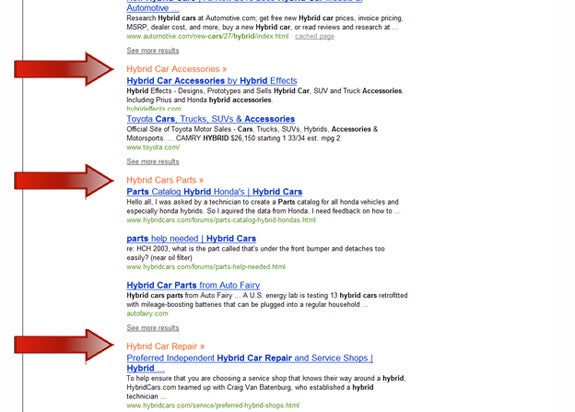 Bing distributes its search results into various search categories. For example, Bing divided the results of my search for "Saturn Vue" into the categories 'MSN Autos', 'general search results', 'problems', 'images', 'parts', 'repair', and 'specs'.
My Take: Though a logical breakdown of categories within search results can be convenient, it does lead to a lot of scrolling down. I'm not sure that I want to scroll–and scroll some more–to find what I'm looking for. Furthermore, categorized search seems a bit redundant when you have the handy Explorer Pane to help you focus your search results by categories.
Instant Results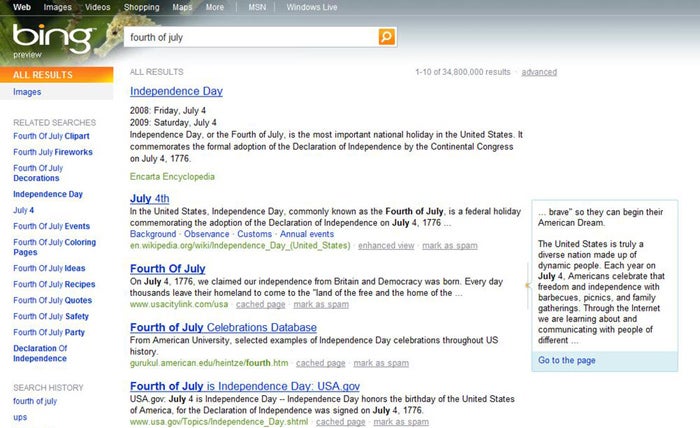 Bing joins Yahoo in declaring war against the "ten blue links" approach to reporting search results–Google's method of displaying lists of Web sites that might be what you're looking for. Bing takes a two-pronged approach to fighting "blue link" fatigue. First, its Quick Preview feature gives you a text-based synopsis of the pages displayed in your search results. I dragged my mouse cursor over individual search results for "Babe Ruth," and up popped a box of data pulled from the site.
Bing also peppers search results with what Microsoft calls Instant Answers. As the name implies, Instant Answers serve up answers to questions such as currency conversion, weather forecasts, and movie times.
My Take: I didn't like the Quick Preview feature because I found that it took too long for boxes to pop up with text. Sometimes, a Hover box would appear without text. In many cases when text did appear, it didn't give a strong enough clue as to whether the site was worth visiting. Given its shortcomings, this Bing feature may be the first to get axed by Microsoft.
A New Image and Video Search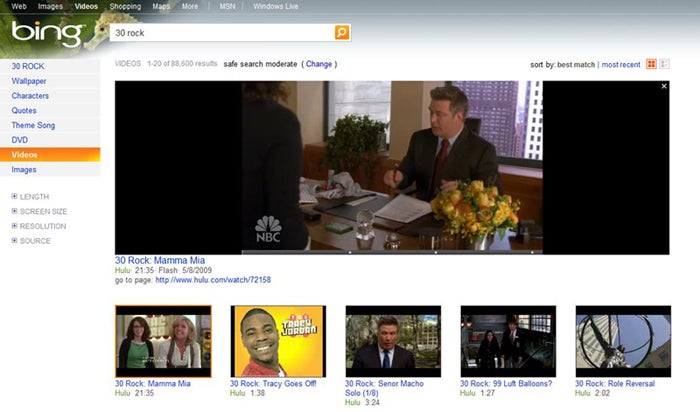 Microsoft says that it has beefed up the capabilities of its image search to allow users to search for video content from specific online providers such as Hulu or YouTube. This feature was available in the Live Search version of Microsoft's video search last week. As for image search, Bing has a cosmetically different look from Live Search, but the tools appear to be the same.
My Take: I'm unsure how new the Bing version is, but I like the updated layout and look of video search, which makes search-refining tools easier to access than Live Search's version did. In the beta version of video search, however, the specialized search feature clearly needed some tweaking. When I searched for the television show Lost and the episode "A Journey In Time," selecting the source Hulu, I got back an episode of the 1960s TV show Flipper.
Bing Travel: Time to Buy?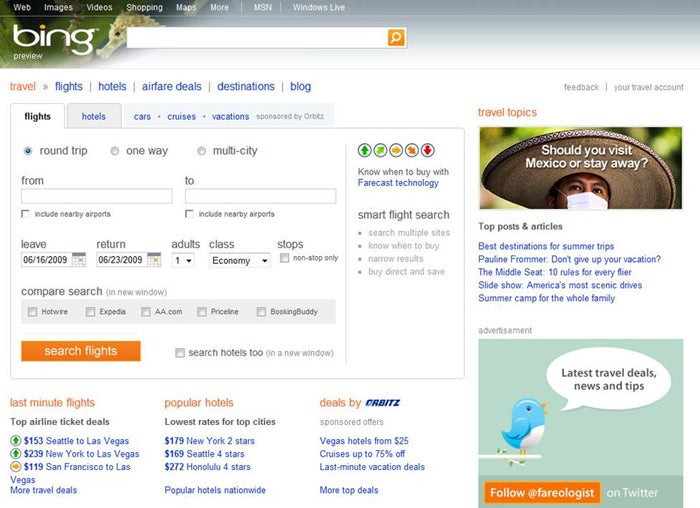 Using technology acquired by Microsoft with the purchase of Farecast in 2008, Microsoft brings some uniquely advanced technology to search queries involving travel and buying. Farecast, a tool for comparing airfares, uses a predictive algorithm to recommend when you should buy your airline ticket. The Farecast technology is now tightly integrated with Bing so you can use advanced pricing tools from within Bing's search results.
Using the same Farecast technology, Microsoft is bringing smarts to hotel reservations, too. Bing travel results show you Hotel Deals when you search for accommodations within a specific region. According to Microsoft's Weitz, Bing calculates the historic price of a room at a specific hotel, compares historic pricing with the current rate being offered, and identifies whether the current price is a "deal" or not.
My Take: Microsoft's integration of Farecast technology into its search product is welcome and needed. In Live Search, Farecast wasn't fully integrated and didn't offer hotel deals. On the basis of my limited testing, I can't judge how accurate Farecast is.
Can Bing Slay Google?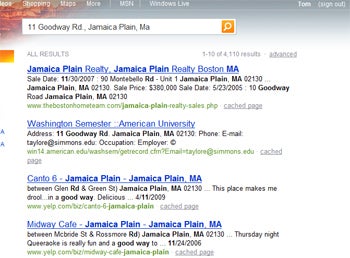 Bing is no game changer when it comes to search. Though the new search engine is a great start, Microsoft still has work to do.
With Bing, results don't seem as intuitive as with Google. Try entering a residential street address in Bing and the search results show you a Web site–not a map–that often seems unrelated to the address you typed in. (When I entered a business address, I did see a map.) Type the same address into Google, and the search results prominently feature a map with the address. Bing offers the same type of map, but you have to select Bing Maps to find it.
How can Microsoft try so hard and yet get something as simple as address lookup wrong? I don't know.
Bing seems to be working toward two goals, one external and one internal. To the public, Bing offers a slick interface for finding answers (not always Web sites) fast. But within the house of Microsoft, Bing represents a needed integration of existing services (such as the Cashback program) and recent acquisitions (such as Farecast and Powerset) into the company's search family.
Will the masses start binging instead of googling? If Microsoft continues to make progress with its ongoing tweaks and improvements to Bing–and steamrolls the existing landscape with its promised massive advertising campaign, it stands a chance of converting more than an impressionable few.