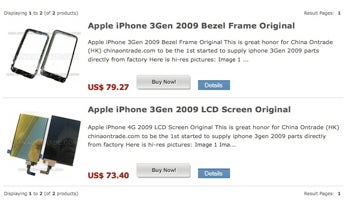 You know it's getting close to a major Apple event when rumors about new gadgets from Cupertino start rolling in on a daily basis. Today's rumor comes all the way from China, with a supplier claiming to sell spare bezel frames and LCD screens for the next-generation iPhone. Chinese parts maker China Ontrade says it is the first company to be selling factory-direct parts for the "iPhone 3Gen 2009," which is listed under Ontrade's "iPhone 4G Spare Parts" section.
Why China Ontrade is selling spare components for a phone that is not supposed to exist yet raises some questions about the authenticity of the pieces. The parts could be complete fakes, but then again their appearance could be another signal that a new iPhone is almost upon us.
Assuming these next-gen iPhone pieces are the real thing, what can they tell us? The always-scrupulous iLounge took a look at the photos of the bezel–the thin frame that locks on to the front of the iPhone–and says it looks like the iPhone's earpiece has been repositioned and redesigned.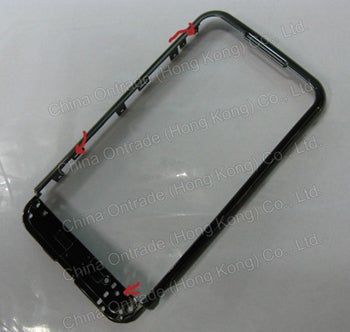 The redesign could be making room for a larger screen, a front-mounted sensor or maybe even the fanboy favorite: a camera for videoconferencing. The bezel's color has also shifted to black instead of the chrome bezels used in previous iPhone models. As for the new screen, it looks the same as the iPhone 3G display, but at $73 the supposed 4G screen is almost twice the price of China Ontrade's $40, 3G model.
It's only 11 days until Apple takes over San Francisco's Moscone Center West for the company's annual Worldwide Developers Conference from June 8-12. Will Apple unveil a new iPhone during WWDC's keynote address or will the company frustrate its fan base once more? The best way to find out is to follow PC World's coverage of Apple's WWDC keynote address on Monday, June 8 at 10 AM Pacific.