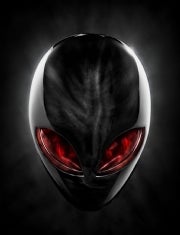 Ever since Dell bought a stake in Alienware, people have been wondering: What becomes of Dell's gaming-friendly XPS line? As of today, it goes away. Or at least it stops trying to cater to gaming enthusiasts. Henceforth, Dell-owned Alienware is the official game face of the organization. After all, Alienware also crafts game-centric mice, keyboards, headsets…and funky monitors. In fact, at next week's Electronic Entertainment Expo, Alienware plans to update everyone on its progress with a huge 42.8-inch curved monitor.
A big part of Dell/Alienware's gaming gambit involves aggressive expansion. An "All Powerful" campaign will launch as the brand attempts to expand its reach from 6 countries to 35. The first machine to show off Alienware's new message is the M17x laptop.
More Than Meets the Eye
When Alienware reps set the new M17x in front of me for a demo, my first thought was "If I just sit here and look at this thing, will it transform into a robot–or a 2009 Dodge Charger?" You think I'm nuts? You be the judge. (Hint: The notebook is the one without the wheels.)

Like the Alienware M17, the latest Alienware laptop looks to load up on features while still achieving a fairly reasonable price ($1799 in this case). The base-level 17-inch machine will come with a host of perks that should earn a warm reception from gamers.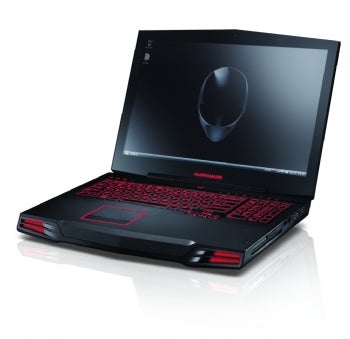 Among the configuration delights lurking under the anodized aluminum hood of the starter model are the following:
• A single 1GB nVidia GeForce GTX260M GPU (upgradable to dual 1GB nVidia GeForce GTX 280M GPUs for your sweet high-end graphic needs)
• An Intel Core 2 Duo 2.4GHz P8600 CPU (upgradable to a Core 2 Extreme Quad-Core CPU)
• 4GB of RAM (Up to 8GB of 1333MHz DDR3 RAM)
• A 250GB 7200-rpm hard drive (upgradable to a 1TB 7200-rpm or to 512MB of solid-state storage capacity [Raid 1 or Raid 0]; users can swap out hard drives by removing the battery)
• A slot-loading DVD-RW drive (upgradable to dual-layer Blu-ray Disc)
• A nine-cell battery
• An nVidia GeForce 9400M G GPU with HybridPower technology (the big bonus here on the motherboard helps you get decent scaled-down graphics when you don't need the dual-card megaton firepower; it kicks in when plugged into AC power)
• 802.11n Wi-Fi
• An optional 1920-by-1200-resolution edge-to-edge LCD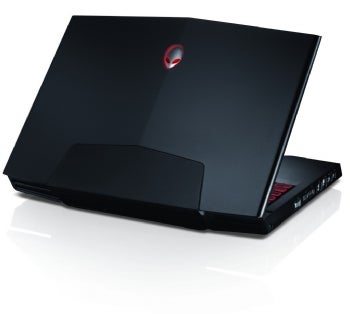 Like any self-respecting desktop replacement, this laptop uses its monstrous size (it measures 15.98 by 12.65 by 2.11 inches and weighs 11.68 pounds) to accommodate a gaggle of ports. Crammed around the sides are a four-pin FireWire port, four USB plugs, an eSATA/USB combo port, an ExpressCard Slot, and an eight-in-one Media Card reader. The M17x also makes room for DisplayPort, HDMI, and VGA video-outs. A bunch of audio-out jacks for external surround sound provide a pretty strong indication that you won't be tempted to stick with the two built-in speakers. (Pro tip #1: The internal pair may not provide the best sound. We'll give you the lowdown once we get our hands on a review unit.)
Otherwise, the M17x comes with a pimp-my-rig-worthy lighting kit for the keyboard, numberpad, touchpad, and trim lights. (Pro tip #2: Don't bank on long battery life from this traveling arcade.) Want to optimize features or tweak the way the lights twinkle? Alienware still has its user-friendly performance-shifting software on hand.
For the moment, though, I'm working off a quick glance and limited interaction. My Initial impression after a quick hands-on with the machine: It makes my short list of gaming machines with serious sex appeal. But that's without before we've thrown our usual truckload of benchmarks at it. We'll just have to wait and see how the M17x stands up to the challenge of PC WorldBench 6.