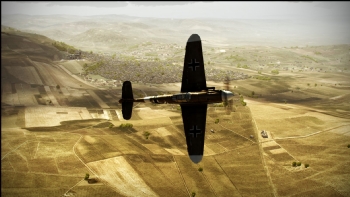 Regarding Gaijin Entertainment's IL-2 Sturmovik: Birds of Prey, to paraphrase Dave Bowman: "My god, it's full of planes!" That's my reaction to the latest batch of screens for what's shaping up to be an astonishingly good-looking flight-sim. Thing is, not a flight-sim for Windows PCs, but rather the Xbox 360 and PlayStation 3.
Fair enough. PC owners have Oleg Maddox's Battle of Britain: Storm of War to look forward to…sometime hopefully this side of the new century's debut decade, anyway.
And consoles deserve reasonably serious flight-sims, don't they? A gamepad's no more a gun than a racing wheel or a flight stick, right? With the glut of first- and third-person shooters, open-world action games, and mediocre-to-plain-embarrassing franchise tie-ins, why not spark a set-top flight-sim renaissance with something a bit slower paced than Ubisoft's blink-and-you'll-miss-the-target HAWX?
It'll come down to how it plays, of course. According to publisher 1C, the game aims to be a World War II air and ground puncher (i.e. dogfight and bombing missions) tackling five theaters of war: The Battle of Britain, Stalingrad, Berlin, Sicily, and Korsun. Factor in 50 missions comprised of hypothetical and historical battles, a soundtrack by Jeremy "Oblivion" Soule, and a difficulty system that scales "from arcade to realistic simulation." Just how realistic remains to be seen, but probably not as painstakingly accurate as Maddox's period-peerless original IL-2 series.
Fine with me, as long as pulling Immelmanns and Split S half-rolls are properly nail-biting.
For more gaming news and opinion, point your tweet-readers at twitter.com/game_on.
Tip: Click the screens below to launch the OMG-super-sized versions.