Netbook makers will soon play a larger role in the e-reader market if start-up Pixel Qi has anything to say about it.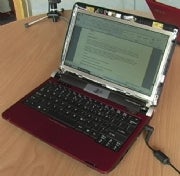 The company, founded by former One Laptop Per Child (OLPC) CTO Mary Lou Jepsen, will show off engineering samples of its first screen product at Computex Taipei 2009 next week, and IDG News Service was able to catch a first look on Friday.
The first Pixel Qi product, called 3qi, is a 10.1-inch netbook screen designed to work in three modes: a black-and-white e-ink mode for reading text documents and e-books, and two color modes, designed for use indoors or in bright sunlight, that are more suitable for Web surfing and video playback.
E-ink mode extends battery life by shutting off the backlight, and is intended for reading e-books, documents, Web sites or blogs and other text-based material.
The screens should be in netbooks and on store shelves by the end of this year, said Jepsen. Giving netbooks new screens capable of making them e-readers could make them compelling holiday presents, for price and functionality alone.
E-reader makers have reason to fear such innovation because people will be able to buy devices with more functions for about the same price. The latest Kindle, a stand-alone e-reader, costs US$359 according to Amazon.com, while some of the world's most popular netbooks with 10-inch screens, Asustek's Eee PC 1000HE and Acer's Aspire One AOD150-1165, are similarly priced.
New netbooks designed to include e-reader functions will likely have displays that can swivel around to cover the keyboard, a tablet mode good for an e-book reader, said John Ryan, chief operating officer at Pixel Qi.
Beyond the screen, netbook users will need e-reader software, which is already available from several companies, including Adobe Digital Editions, Microsoft Reader, Times Reader made from Adobe Air and even Kindle software made for other devices, such as the iPhone.
Power consumption is another issue Pixel Qi tackled in its 3qi screens.
"What you're looking at is a screen that's entirely reflective," said Ryan, at Pixel Qi's temporary office in Taipei. "It's just running like e-paper so that it's running on the ambient light. It's not fighting the office light , it's not fighting the sunlight. That makes it better for reading but it also cuts the power consumption. The backlight in the screen is typically the largest power drain in any notebook computer."
Battery life is vital in mobile devices such as netbooks. Once Pixel Qi screens are more widely adopted in the industry, the company plans to start working more closely with laptop and netbook designers on ways to lower power drain in the overall system, not just the screen.
The next major hurdle for Pixel Qi is finding large customers for its new 3qi screens.
The screens will cost a little more than conventional LCD screens at first, but costs will go down as production volume picks up, said Jepsen. Pixel Qi designed its screens around the most common technology and production line processes of the day, TFT-LCD (thin-film-transistor liquid crystal display) technology.
The company did not say which manufacturers it is working with, but there are several in Taiwan, including AU Optronics, Chi Mei Optoelectronics and Chunghwa Picture Tubes.
One bonus for Pixel Qi is that the global recession has hurt LCD demand, freeing up production lines for its new display.
But that's about the only benefit from this recession.
"People read the news everyday and this has been pretty bad, and so convincing people to take risks during that time was darn hard," said Jepsen. "Venture capital dried up so of course we were trying to get funding during all of that, but we did it."