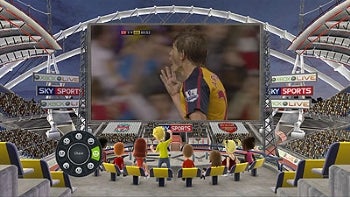 Microsoft's Xbox 360 is suiting up to become an all-encompassing entertainment center. British broadcaster Sky has announced a deal between Sky and Microsoft that will bring live television programs such as sports, TV shows and movies to UK and Irish Xbox 360 consoles by fall 2009.
Sky will offer multiple subscription packages so users can customize the depth of programming they wish to view. All content will be delivered via the customer's broadband Internet connection, eliminating the need for set-top boxes and satellite dishes. Pricing details are not yet available.
Sony and Nintendo already have a similar set-up with the BBC's iPlayer, a Hulu-esque arrangement that allows the PlayStation 3 and Wii — as well as Windows, Macs, Linux and iPhones — to stream the past week's television programs instantly.
Though Microsoft has not announced live TV coming to U.S. versions of the Xbox 360 console, the news cannot be too far off. "Xbox is going to continue to evaluate bringing our content to the right regions," a spokeswoman told TG Daily. Elusive … but could be promising.
Competition for gaining the most in-depth multimedia experience possible on a video game console has heated up in the U.S. with the introduction of video-on-demand services and instant Netflix streaming. Adding live TV to the mix will surely be a make-or-break deal between television studios and Nintendo, Microsoft and Sony.
Image Credit: Sky News