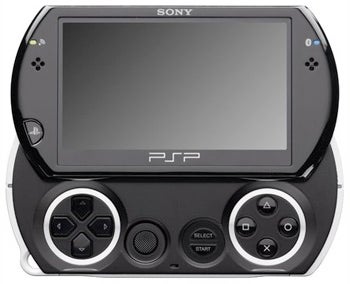 That doleful baying sound you're hearing? Sony releasing the hounds as all hell breaks loose. It seems someone just can't wait to collect unemployment, because these leaked high-res shots — ostensibly of Sony's unannounced but long rumored PSP makeover — look pretty darned convincing.
Of course that's what I said when I saw the Brachiosaurus in Jurassic Park.
Eurogamer: Someone's PSP GOing to Get Fired
Slightly predating the leaked shots: These new info bits, per a yanked (but resurrected) YouTube video of a Qore episode starring Sony Hardware Marketing Director John Koller.
– 16GB of internal memory, expandable memory slot.
– 43 percent lighter than the PSP-3000, making it roughly 108 grams. Nintendo's DSi weighs a comparatively chubby 214g.
– A smaller 3.8″ screen (the PSP-3000's is 4.3″). The DSi's is 3.25″.
– Bluetooth-capable.
– New games on deck, including Metal Gear Solid, Jak & Daxter, Gran Turismo, and LittleBigPlanet.
– No second analogue nub. Doh.
– Available this fall.
For more gaming news and opinion, point your tweet-readers at twitter.com/game_on.