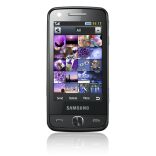 Samsung launched on Monday the Pixon12, the company's first touchscreen phone with a 12-megapixel camera.
The long-rumored phone follows in the footsteps of the Sony Ericsson Satio, which also comes equipped with a 12-megapixel camera. But the Samsung phone will be the first to hit the market when it ships in some parts of Europe by the end of June.
Sony Ericsson, on the other hand, will start shipping the Satio in the beginning of the fourth quarter.
Losing that first-to-market advantage will be frustrating for Sony Ericsson, according to a research note from CCS Insight, which said that the megapixel race appears to be slowing down.
The Pixon12 also has a Xenon flash and Touch Auto-Focus tracking, which lets the user select the focus point with the touch of a finger, after which the phone automatically follows the object. It features fast-image saving, so users should be able to take next photo within about two seconds, according to a statement from Samsung.
Both images and videos — which the Pixon12 records with 720 by 480 resolution at 30 frames per second — can be uploaded to social-networking sites such as Facebook, Picasa, Flickr, MySpace, Photobucket, and Friendster, Samsung said. Images are stored on a 16G byte MicroSD card.
Besides a camera it has some other fairly standard features, including a 3.1-inch display, GPS and an FM radio. Users can surf the net using HSPA (High-Speed Packet Access) or Wi-Fi.
Pricing hasn't been announced.