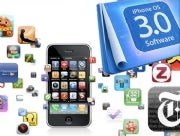 Apple appears ready to thwart the piracy of iPhone Apps before it becomes a problem. Apple's upcoming iPhone 3.0 software update, to be announced next week, will no longer allow you to re-download iPhone apps you once downloaded, according to beta tester of the software.
This change of policy accompanies a rumored new feature expected in the iPhone 3.0 software that will allow you to download iTunes content directly to your iPhone. With the iPhone 3.0 software all you'll have to do to download a TV show, for example, is submit your iTunes user name and password into your iPhone and start downloading. Currently, to get premium video and other types of content onto your iPhone, you must purchase it first on desktop iTunes software and then sync your iPhone.
By restricting the ability to re-download iPhone apps, Apple would prevent someone from sharing (intentionally or not) their iTunes account information with another person, who could then download for free all the apps the iTunes account owner had previously purchased. The 3.0 firmware is said to allow users to log in and out of multiple iTunes accounts straight from their phone.
These changes in the iPhone App Store purchasing methods are reportedly on the way, and will debut with next week's unveiling of the final iPhone 3.0 software update. Multiple reports confirm that some iPhone 3.0 beta firmware users are seeing this change in the App Store purchase mechanism. In the new beta firmware, if you want to re-download an application that you already bought and deleted, you are prompted to buy it again when this procedure is done on the iPhone.
With iTunes account-switching on the fly coming in the iPhone 3.0 update, users could share with each other their login credentials and re-download wirelessly apps purchased by another on different devices. Apple's new measure could curb this behavior, as it will prompt users to pay for an app again if trying to re-download over the air.
It is not clear whether the App Store will prompt users to buy again an application they are trying to re-download only if they have changed their iTunes account on their phone (to a different login from the one they use on their computer) or whether this measure will apply to all download attempts. However, re-downloading an application can be done free of cost on a computer (if the app was already purchased) and then synced back with the iPhone.
Follow Daniel on Twitter @danielionescu