Have you bought a netbook, an Amazon Kindle 2, a portable GPS device, or another mobile electronic gadget lately? If so, let me ask you another question: How long was it before you wish you'd waited for something cheaper-faster-better?
My guess is: not too long. Given the fast pace of tech product introductions these days, a post-purchase twinge of regret is practically unavoidable. In fact, I believe we've entered the era of instant buyer's remorse.
Other than the unpleasant emotions such a state invokes, just the fear of buyer's remorse makes it harder to decide on the right product at the right time, and to buy it with confidence.
At the same time, the near-death of consumer tech superstores such as CompUSA and Circuit City means you have fewer options for getting some hands-on time with a potential tech purchase in a store, especially if you live in a rural area or small town. (Office equipment retailers such as Staples, Office Max, and Office Depot still carry laptops, GPS systems, and such, as do big-box retailers like Target, Wal-Mart and Costco.) Add to that the restocking fee some retailers charge if you return a product that isn't defective, and you've got a situation that's stacked against the consumer. A typical restocking fee is 15 percent of the product's price tag.
Fortunately, there are some ways to work around these problems, such as buying from retailers that don't charge restocking fees–they do exist. This week: a look at what's causing instant buyer's remorse. Next week: how to avoid it, or at least minimize its impact.
Amazon Kindle 2, Kindle DX: Accelerated Buyer's Remorse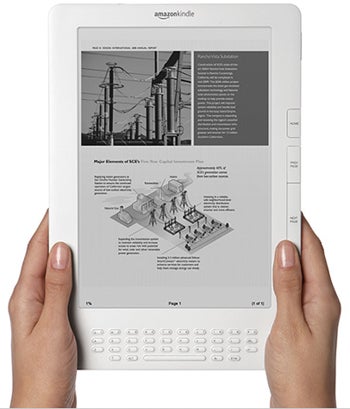 Amazon introduced the first Kindle e-book reader in November 2007. The Kindle 2 wasn't unveiled until February 2009. That's a span of 15 months. So it seemed logical to assume that if you bought a Kindle 2 when it came out, as I did, you wouldn't feel buyer's remorse for a long time.
So what did Amazon do? Three months after introducing the Kindle 2, the company announced the Kindle DX, which costs more ($489, compared to the Kindle 2's $359 price) but also boasts a larger screen (9.7 inches, vs. the Kindle 2's 6-incher). Had I known the Kindle DX was on the horizon at the time the Kindle 2 was announced, I probably would have waited for the DX, as I'd prefer to have a Kindle with a larger screen. Or, I would have at least appreciated the option of choosing between the two e-book readers. But it's too late to return my Kindle 2, so I'll stick with it.
Samsung Netbooks: The Mind Reels
Samsung is a latecomer to the U.S. netbook party. After introducing its first netbook, the NC10, in October 2008, the company was soon carpet-bombing the country with various models offering different features and price points: the NC20 (about $515); the N110 ($409 and up), which earned the number two spot on our Top 10 Netbooks chart; the N120 ($400 and up), and the most recent, the N310 ($479).
Samsung's netbooks are for the most part earning great reviews for their long battery life and roomy keyboards. But with so many models from which to choose, how can you be sure which one is right for you? How will you know that once you buy a Samsung netbook, you won't be sorry just a month or two later, because the company–or one of its competitors–has come out with something even better?
To complicate matters, I've yet to see a Samsung netbook in a Best Buy or other retail outlet. I checked Samsung's Web site for retailers in San Francisco, where I live. But the site turned up nothing but local CompUSA stores–which have all closed.
So if I were a potential Samsung netbook buyer, I'd have a tough time deciding which model to purchase. And unless a friend or colleague of mine has a Samsung netbook, I'd have to take a leap of faith and buy one sight unseen.
Portable GPS: Which Direction to Take?
Like Samsung, Garmin has, oh, about 10 million different portable GPS devices from which to choose. Seriously, in a recent check of the company's Web site, I counted over 20, and some models have only minor differences between them.
So how can you figure out which model is the one for you? Garmin's site offers a helpful compare tool. Still, it's easy for your eyes to begin glazing over when trying to hone in on just one GPS. And while electronics retail stores generally have some Garmin GPS units on display, you can't really get a sense of how well the device will work until you road-test it. If, after trying the unit out, you decide it wasn't the right one for you after all, and you'd bought it from a retailer that charges a restocking fee, you've lost money. It's enough to make you shy away completely from buying a Garmin portable GPS unit–which would be a shame, as Garmin makes the best ones (in my experience).
What Can You Do About It?
As I mentioned earlier, it's possible to find reputable retailers, both online and bricks-and-mortar, that don't charge restocking fees for returned electronics that aren't defective. I'll point you toward some and offer other tips for minimizing buyer's remorse in next week's blog.
Keep on Clicking
Mobile Computing News, Reviews, & Tips
Apple Tablet Coming in 2010? Rumors continue about a possible Apple iPod-like tablet. Piper Jaffray analyst Gene Munster believes Apple will launch a touchscreen tablet in the first half of 2010 for $500 to $700.
Sharp's Netbook Has Two Screens: Sharp's Mebius NJ70A (available in the U.S. only from Dynamism.com for about $1000) features a 10-inch widescreen LCD as well as a 4-inch LED optical touchpad for navigating between programs, playing games, scrolling through photos, and zooming Web pages. Check out the Mebius and other cool tech that's not available in the U.S. in our online gallery.
High-Tech Hotels: Featured in our gallery of hotels with cool tech amenities is HotelM, located at the Schiphol Airport in Amsterdam. The hotel is constructed of prefabricated rooms built and assembled off site and features amenities such as a "MoodPad," which guests can use to control shades, temperature, and the flat-screen entertainment center.
Going Green in Greensboro: Closer to home is the Proximity Hotel, which uses technology and other means to achieve its status as the greenest hotel in the U.S. The Proximity is located, appropriately enough, in a particularly green area of Greensboro, North Carolina. I spent a night at the hotel not long ago and enjoyed my high-ceiling, big-window, top-floor room. Tech amenities for guests include a computer station and printer on each floor, plus in-room 32-inch flat-screen TVs and wired and wireless Internet access. (I always prefer hotels that give me both types of Internet connections. Wired access is usually robust enough to smoothly handle Skype video chats, while wireless gives me the option to work from any spot in the room.) Rates are $179-$250, which are fairly high for Greensboro but not unreasonable for what you get. One criticism: My top-floor room lacked a comfortable working desk and ergonomic chair.
Suggestion Box
Is there a particularly cool mobile computing product or service I've missed? Got a spare story idea in your back pocket? Tell me about it. However, I regret that I'm unable to respond to tech-support questions, due to the volume of e-mail I receive.
Contributing Editor James A. Martin offers tools, tips, and product recommendations to help you make the most of computing on the go. You can follow him on Twitter. Jim is also the co-author of Getting Organized in the Google Era, to be published by Crown in March 2010. Sign up to have Mobile Computing e-mailed to you each week.