Add Best Buy to the list of retailers running out of iPhone 3Gs to sell. The consumer electronics giant warned its staff last weekend that supplies of Apple's popular handset are running low, and that some stores may run out of iPhones for a few weeks by the end of June, according to a report by Sam Oliver of Apple Insider.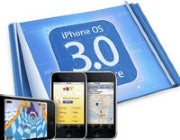 The news is yet another indication that Apple is gearing up to debut one or more new iPhone models right away. A similar phenomenon occurred about year ago before Apple launched the iPhone 3G. In May 2008, Apple's U.S. and U.K. online stores reported the first-generation iPhone was out of stock, as did Apple's online and brick-and-mortar stores.
It's a similar story this year. In addition to Best Buy, Australian iPhone distributor Brightpoint has advised its clients that the end is near for the iPhone 3G, and that stock is running low.
Given the scarcity of the 3G model, it's highly likely that Apple will roll out a new handset as early as next week at its Worldwide Developer's Conference. That leaves us just 7 days to speculate on the next-gen iPhone's features and pricing. What's your favorite rumor? 32GB of storage? OLED screen? Personally, I like the idea of a $99 bargain iPhone. But I'm not holding my breath.