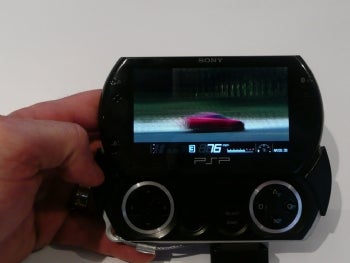 I won't belabor the point too much because Game On's Matt Peckham has already collected all the soup-to-nuts info about E3's worst kept secret, the PSP Go. Here's a couple of the important specs Just to catch you up:
16GB of internal memory, expandable memory slot. (that memory slot is yet another proprietary media format — yay!)
43 percent lighter than the PSP-3000, making it roughly 108 grams. Nintendo's DSi weighs a comparatively chubby 214g.
A smaller, 3.8-inch screen (the PSP-3000's is 4.3 inches). The DSi's is 3.25 inches.
Bluetooth and WiFi-capable.
Ships October 1 for a "mere" $250.
That said, I've had a chance to lay hands on the device. And while I'm not exactly ecstatic about the price, I will say one thing: This is the design the thing should've had the first time around!
It's basically a Mylo with the keyboard ripped out and replaced by game controls. And I wouldn't be too surprised if they used most of the scrapped cases from that funky, defunct device. But I digress. After spending a couple minutes with the PSP Go, it felt great in-hand.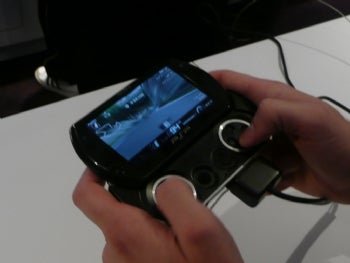 Whipping through turns at 60 frames per second in Gran Turismo (new for the PSP), the screen was able to keep pace with the action. In fact, Gran Turismo looked fairly pristine. Wish I could say the same for my driving. (I'm not going to lay blame at the fact that there is only one analog nub — I don't mind it. Heck, I like the fact that it's a little more recessed to prevent accidentally knocking against it mid-game.) Little Big Planet was an equally slick-looking title fully carrying over the look and feel of the console original. This shot doesn't do it justice.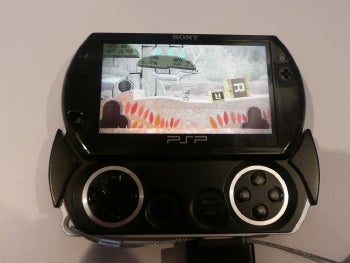 It was difficult to get a true gauge of the weight because a big metal bracket lashed the system to a couter. Even though it's got a 16GB HDD, it didn't feel like it'd be too meaty in your mitts. The sliding mechanism felt firm and when shut it'll obviously make for a better video-viewer on your next flight. But as I said up top, this is the furthest thing from a review — just a quick peek into what you can expect this fall.
Oh, and while I'm throwing up images, enjoy the girl-tastic Lilac-colored Hannah Montanaish PSP also en route to a little kid near you!