Who'd have thought that the biggest, best-selling trend in new games would be working out? Well, obviously Nintendo did when it launched Wii Fit and the Balance Board last year. And at this E3, there are no less than three announcements that'll matter to gamers that want to grind off a couple calories.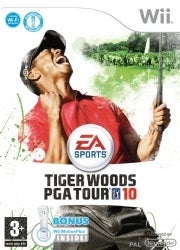 First, let's talk Wii Fit Plus really quickly. This update to the original game (which, by the way, sold somewhere in the neighborhood of 15 million copies) adds some new exercises and a couple new mini-games. The one that seems to get the most attention on the show floor: A balance game that basically plops you in the middle of a Mario scenario — dodging and jumping to get your Mii down a path.
While we're at it, let's also give a quick nod to Wii Sports Resort, Tiger Woods PGA Tour 10 and on of my faves — Grand Slam Tennis. Each of these support the Wii MotionPlus control and I know the later helped me work up a sweat while on the show floor. It's just nice to know that we'll start seeing a few select games shipping with the MotionPlus dongle soon.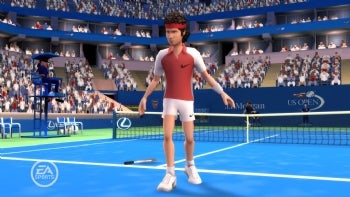 Of course, the few, the proud, the jaded journalists on hand didn't seem to get what the deal was with the Wii Vitality monitor. Reporters smarmily Twittered that this is just catering to a demographic that either needs a cheap heart monitor, a lie detector — or both. But, after having a gaming session with a personal trainer recently, I realized something that lot of people don't know: With a heart monitor or whatever-the-heck Nintendo wants to call it, this could actually help a game accurately calculate how many calories you've burned. Usually, the games just make educated guesses.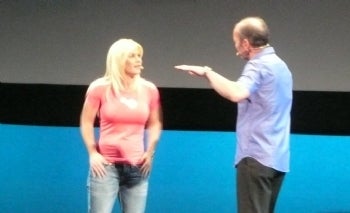 But Nintendo isn't the only company looking at new ways to get you on your feet. EA Sports Active recently launched to great success so far — I like it. And The Biggest Loser host, Alison Sweeney, made an E3 appearance to help announce an expansion pack that's on the way. As with Wii Fit Plus, it'll contain even more exercises. Active's update will include different climates (workouts at the beach, here I come!), an increasing-intensity six-week challenge and a weekly virtual trainer check in to track your goals.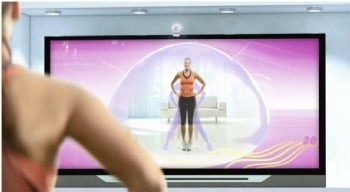 But yet another Wii workout routine is coming onto the scene and this one sounds genuinely promising: Ubisoft's Your Shape. I'm genuinely intrigued by this one, if for no other reason than the fact that it ships with a TV-mountable camera that you need to plug into the Wii. No controllers, no bands, no leg straps. Your Shape promises to scan your body into the system and you're basically seeing yourself on-screen as you work out. In one example, the program overlays a silhouette and you need to hit the finished form in order to score. Or duck and dodge to avoid incoming balls. I haven't scanned myself into the matrix yet to test this one, myself, but it certainly sounds like it could be a contender.
You know, with all this Wii talk, it's making the Xbox 360 and PS3 sound a little too big and flabby. Well, let's not forget about the workout applications possible with Microsoft's Project Natal. Granted, all we have to go on right now are a couple of basic applications like painting and playing Breakout with your body — but the potential is definitely there. And what about Sony's reveal at E3? Today's proof-of-concept motion controls are a little odd, but interesting. I mean, using the Sony wands to . . . I don't know . . . serve as the handles on some virtual jump rope could help get the heart rate up. Point is, While Wii is the only one to market right now with a good workout, Sony and MS could very easy cookup their own exercises.
Are there even more workout games lurking in different corners of the show floor? Stay tuned.