In my rush to get Sony's E3 gaming reveals up last night, three important tidbits landed unintentionally on the cutting room floor. Check out "Sony Confirms PSP Go, Final Fantasy XIV, Motion-Control Wand," if you missed it, then read on for the rest. These came, in the following sequence, just after the PlayStation Motion Control announcement.
The Crazy Content Creator: Mod Nation Racers
Ready for LittleBigPlanet 2? Mod Nation Racers isn't that, but it is the second title in what Sony's dubbed its "Play, create, share" genre. (That's right, genre's apparently now come in three-verb flavors with commas to boot.)
Mod Nation Racers looks a bit like LittleBigPlanet on a racing track. Think real-time physics, racers that can be customized and personalized, weapons you snag by driving over them, i.e. Mario Kart meets more realistic visuals, etc.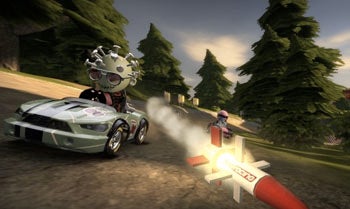 But it's almost less about racing than building. "We wanted to let you create by playing," said developer United Front Games, proceeding to putter around a flat, empty expanse, leaving a tongue of gray–the race track itself–in the vehicle's wake. Instead of painting with a clunky pointer, you simply put your ride in gear and drive it. All told, it took half a minute to make a brand new twisty-curvy racing loop.
Want to test your creation? You can spawn AI opponents on the fly and dive right in, or back up and fiddle with attributes like the track's surface (the design team demoed switching from asphalt to dirt, for instance). You can tease snow-capped mountains from the ground by dragging a brush around, add water and determine its levels, even smooth out lumpy hills. Make the brush a bit smaller to add trees or build out a nearby village, then set the time of day (with realtime lighting changes), drop safety cones on the track, add weapons–even plop down flocks of live critters like sheep. The whole thing took less than 10 minutes to build. Impressive. After that, you can save your creation to the hard drive, upload it online, or download someone else's track and remix.
The Beautiful (Previously Leaked) Trailer: The Last Guardian
Next up, a trailer for Fumita Uedo and Team Ico's third title in the Ico / Shadow of the Colossus sequence, dubbed The Last Guardian. Same trailer we'd seen already seen (leaked) with a few extra bits at the end and a possible uptick in the detail level (the leaked video was pretty low-res, so it's tough to say).
In any event, it looks absolutely beautiful. As noted in my coverage of the leak:
A boy and his gryphon, and awww, he's feeding it, ain't that cute. They really love each other, sorta like Timmy and Lassie, or Travis and Old Yeller. Now take the gryphon and torture it a little…you know, make it cry or whatever, and wham, that puzzle where you've got to climb the thing and shimmy along the ledge and leap across the chasm to snap the chain holding your mythical buddy down before the timer runs out? A zillion times more nail-biting.
No word yet on a release timeframe.
The Bloody Good Time: God of War III
The one you've been waiting all year for? God of War III–actual gameplay–demoed live. In the final chapter of their fantasy trilogy, said Sony, we'll see how the story of gods, titans, and burly protagonist Kratos ends, as Kratos rushes headlong toward a confrontation with ol' sparky (Zeus) himself.
The demo began unassumingly, with crowds of people screaming and fleeing from enemy warriors. Kratos stepped in at this point, lashing out with his arm-chain blades and bringing the pain. We saw him use a bow and arrow to summon (or maybe just tick off?) a harpy, then use his chains to latch onto one and swing-fly from platform to platform while beating the hell out of the bleating, screeching things.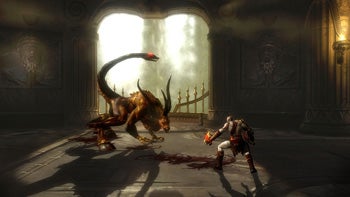 Eventually a Godzilla-sized lava-scorched monstrosity climbed out of the background to elicit a collective "whoa!" from the audience. Kratos was undeterred, charging into an area riddled with activity.
All the basic mechanics appear intact, including a running combo tally of how deadly or sadistic your attacks are. Blood splashed like toppled paint buckets as Kratos tangoed with a particularly tenacious chimera, a fight that went on…and on…and then on some more. Fights feel even more tactically strung out here, with multiple instances of timed-button moves (press triangle, or square, etc.) before you're through.
The finale? Kratos rips the horns off chimera, then plunges them in like swords. Nicely done, fellas.
And we've got a release date at last: March 2010.
Said Tretton, bringing the conference theme full circle: "It's not just exclusive to PS3, it's only possible on PS3."
So there you really have it, folks. Stay tuned for more coverage as the show kicks into floor-demo mode.
For more gaming news and opinion, point your tweet-readers at twitter.com/game_on.