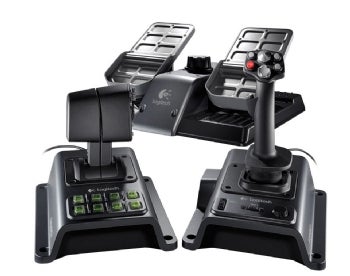 I was always kind of baffled as to why Logitech never considered doing a proper flight system controller setup for PCs. The peripheral maker has crafted everything from single flight sticks to obtuse keypads with macros, but it has never really put everything together into one pilot-friendly package–until now. The Logitech G940 is actually a pretty impressive setup.
Before anything else, I have to mention the look and feel. It's modeled after real cockpits (not that I've flown a real plane). It feels solid in the hand, too. The G940 has a dual throttle control for multiengine craft that can lock into a single throttle if you'd like to go crop dusting in a barnstormer rather than pilot a 747. The set also has rudders with toe brakes, essential for trying to land in tough conditions. But two things in particular stood out to me.
First, it has programmable throttle-based buttons. Yes, their being programmable is nifty–and that's similar to what you can find on a number of flight systems already out–but each of the buttons works with different color states: green (A-OK), yellow (warning), red (ruh-roh), and dark (busted). Apparently that's the way it is on a real plane–not that I ever want to see that happen.

The other big thing in the G940, which many other flight setups miss, is force feedback. If I'm piloting a particularly tough flight, I want to feel every G and get a better idea of which way the winds are blowing–as well as a better sense of whether I'm drifting too far off course. The G940 has that.
Now, while all of this is well and good, there's one question that I simply have to ask: Why now? Is there a glut of flying games that I don't know about? Even Microsoft, purveyor of Flight Simulator, the prime flight game, has backed away in recent years. Well, for the few hard-core players who have the right stuff–and who can spare $300 for the kit–maybe the G940 is something to consider when it launches in September.