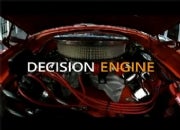 Microsoft's first commercial for Bing, the company's recently rebranded search engine, is officially out in the wild. The inaugural Bing ad focuses on the notion of "search overload," suggesting Internet users have been "lost in the links" while America's financial system has been collapsing.
The Microsoft Bing ad is the first in what's believed to be a $100 million campaign about to pound the world via television, radio, print, and the Web. While the commercials aren't ever expected to mention Google by name, they clearly target the search giant and try to convince users it isn't everything it's cut out to be.
Microsoft's Bing Commercial
Entitled "Manifesto," Microsoft's first Bing commercial connects search engine effectiveness with bank bailouts and Wall Street Woes.
"While everyone was searching, there was bailing," a narrator says. "While everyone was lost in the links, there was collapsing. We don't need queries and keywords if they bring back questions and confusion. From this moment on, search overload is officially over."
The ad goes on to describe Bing as "the one and only 100 percent engineered to cut through the [crap] decision engine." It also marks the start of Microsoft's attempt to transform Bing into a Google-like verb: "It's time to Bing and decide," the spot's final line states.
Microsoft's Bing Challenge
Microsoft appears to realize the notion of tying the state of the search engine to the state of the economy may come across as being a bit questionable. One of the company's advertising managers is cited in AdvertisingAge as saying the campaign was designed to "elicit an emotional response about a concept that, on its face, is decidedly not emotional."
That's not Microsoft's only challenge with selling Bing as the hot new thing — there's also the issue that the general public doesn't appear to be terribly dissatisfied with its current search selection. Globally, Google commands a whopping 81.5 percent of the search market, according to recent data compiled by Web analytics company Net Applications. Microsoft's search, in contrast, is hanging onto less than 3 percent of users worldwide. In the U.S., Microsoft fares slightly less poorly: Its American search share was at 8.2 percent in April, metrics firm Comscore estimates, compared to Google's 64.2 percent.
So if virtual bribery couldn't convince crowds to leave the "G"-force behind (Microsoft's search share consistently dropped following the debut of its "Cashback" promotion last year), can a shiny new name and some forced emotion pull it off? Or could Bing's various new features be enough to win Googlers over on their own?
Microsoft clearly believes there's hope. The company continues its push later this month with a new set of ads described as being more "humorous" than the initial effort. Hey, if they feature the return of the churros and Conquistadors, I just might be willing to listen.
Connect with JR Raphael on Twitter (@jr_raphael) or via his Web site, jrstart.com.