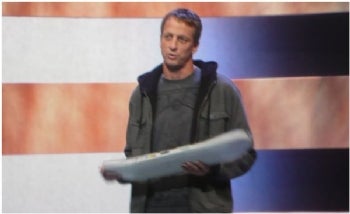 At the beginning of E3, it was a little odd seeing a counter-culture icon like Tony Hawk hawking (sorry, couldn't help it) yet another peripheral controller-based game. In this case, he was showing a wheel-less plastic skate deck that's used as the controller for Tony Hawk's Ride.
I get that there's a great business model in selling a game based around a plastic peripheral, but is this getting out of hand? I had to jump on a board and see for myself.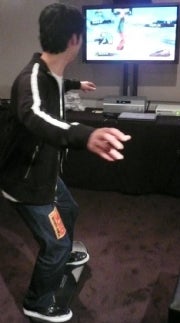 Never say, "I used to skateboard a little bit" because this new game will call your bluff. Quickly. If you get wobbly with Wii Fit's balance board, you've been warned. There is a little bit of skill involved here as you're trying to grind, grab, and cause kick flips.
You're rotating the board, you're crouching low and leaning forward to pull off moves. Then again, it can be a good workout and a way to teach you some balance. And, for that matter, you could consider this a good tutorial before you ever go out and buy a real skateboard.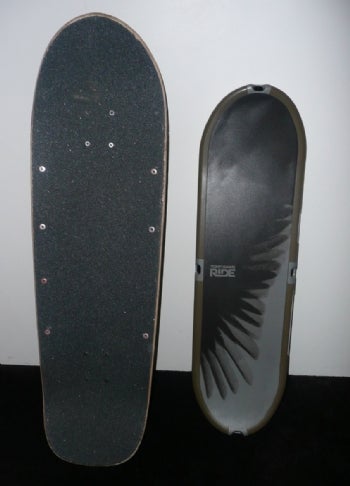 But more about the virtual deck, itself. It obviously has to be a rugged device; it's capable of supporting 300 pounds. The shape itself is a little more snow skate than true skate deck.
The board's accelerometers detect rotation and when you're leaning forward or back. Swipe your foot alongside the board and you're propelling your avatar. Meanwhile four angled IR beams sprout from each side. Lean low and break a beam to perform grab tricks (no actual grabbing is required). The board runs off a couple AA batteries; the spokesperson on hand said that it lasted about a day — but that's a day of countless demos.
Obviously, this is the most ambitious iteration of the series since the original Tony Hawk Pro Skater came out, but is the world ready to drop $120 this coming October 13th for yet another controller to clutter the living room? If you've always wanted a little something more out of your skating than button mashing combinations, then yes.