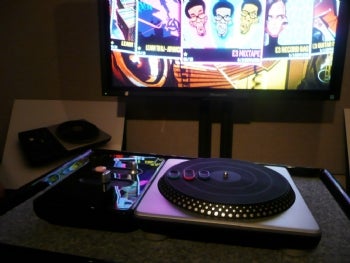 Guitar games make sense for rockers–air-guitarists have bold new worlds to explore with such titles. Now would-be DJs can have their moment on stage. Though years ago a crummy game (Beatmania by Konami) tried and failed, the upcoming DJ Hero looks and feels great by comparison. Just how hard is it to scribble scratch versus strumming a couple of power chords? Well, for starters, it's a new set of controls to learn.
The controller itself feels substantial, like a sturdy (but plastic) turntable. The full-rotation, 360-degree platter has three buttons on it: two for scratching and a big one in the middle that you bop for samples. On the side is a cross-fader that switches between the two songs that you'll mash up on screen. That's all gaming rookies need to become a DJ.
While Activision seems to have done a good job with the feel of the controller, the game's songs–and how you control them on screen–are obviously just as important. The on-screen elements here resemble the streams of notes that you see in guitar games. As a colored gem comes down, you hit a button–think of the turntable as your strum. It seems a little daunting at first, because DJ Hero allows you to freestyle a lot more easily. Check out the DJ Hero site for sample clips so that you can see what I'm talking about. Chuck Brown & The Soul Searchers' "Bustin' Loose" vs. The Zombies' "Time of the Season" (DJ Shadow Mix) is a good one.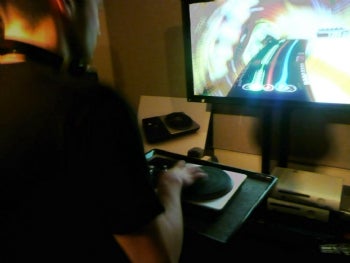 Official word of the long-rumored game came out earlier this month, but let me catch you up to speed quick-like on some of the key things to know.
–Over 100 songs, encompassing electronica, hip-hop, rock, funk, and Motown, will come with the game. The mashups range from the Foo Fighters' "Monkey Wrench" vs. the Beastie Boys' "Sabotage" to KRS-1's "Jack of Spades" (DJ Shadow Mix) vs. David Bowie's "Let's Dance."
–Of course, Activision wants to tie this title in with its other "Hero" games, so it supports a guitar and mic for a three-piece set. Or, you can take the deck with you for a DJ battle.
–The game sells for $120, and ships on October 27.
It's not bad at all, but I still have to note one little gripe–and one observation–after spending some time with DJ Hero. The gripe: I really wish that you could save the mixes and freestylish music that you create as you play. I mean, didn't they have that sort of feature in Guitar Hero World Tour? Maybe they're going to save that for the sequel.
The observation: As much as I personally love this genre of music, and as eager as I am to play the final game, is this market too niche compared with the sheer number of people who want to play guitar? We'll find out this fall.