Obviously everyone gets the whole point of the Wiimote–it operates like a remote control. That's all well and good for general purpose gamery, but it's not perfect. And while Nintendo continues coming up with oddball peripherals (like the Balance Board and the Wii Vitality Sensor), third-party vendors are bringing out their own gear. Some of it isn't half-bad.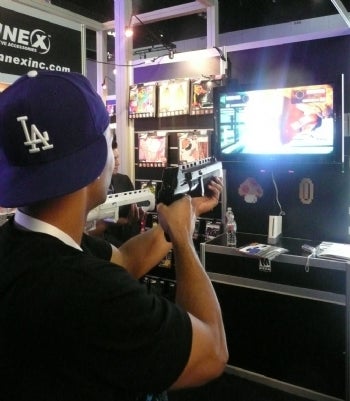 For instance, you need the heft of a giant plastic shotgun in your hand when playing a shooting game on the Wii. Yep, you're going to feel a whole lot more manly when you're lumbering toward the screen with the $30 Buckshot from Innex. It looks like a sawed-off shotgun–and its pump-action reload does a decent job of selling the illusion here. You see, the device integrates the Wii Nunchuck functionality into the backside of the weapon. It's obviously a gimmick best suited for shooting gallery games such as House of the Dead: Overkill and Resident Evil: Umbrella Chronicles, but it worked well in the test shots I took. It just requires a constant two-handed grip to play. That aside, I'm actually considering picking up this peripheral. (Wife approval pending, of course).
Innex also had its 3in1 Retro Adapter on display for players who want to dust off their NES, SNES, and N64 controllers. It's a simple $20 hub that's perfect for when you want to download an old-school game from the Wii's Virtual Console and use the authentic controls. And hey, think of it as a small way to be green–you're finding new use for those old gamepads.
Nyko had a couple interesting ideas as well. First, there's the Wand that the company introduced during this past CES. This take on the Wiimote has one major difference: something Nyko calls Trans-Port technology. It transfers properties of the Wiimote to other devices.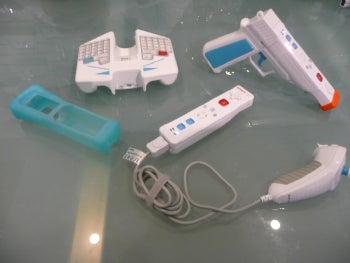 For example, the Wand can share its force feedback ability with Nyko's Kama (the Nintendo Nunchuck doesn't have that). Or the new Pistol Grip, which digitally maps the Wand's A and B buttons to the hammer and trigger of a faux firearm.
Now if you've ever had to enter text on-screen with a Wii, you already know my pain–correctly aiming at Each. Individual. Letter. Nyko has a solution for you, but it sure isn't a pretty one. In fact, it reminds me of some Coleco toys I owned in the 1970s.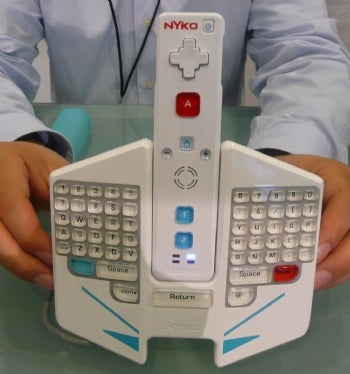 The $20 Type Pad is a split-key setup that lets you park your Wand controller in the middle of it, docking into some kind of Voltron of awesome human interface tech on a budget. Use the cradled Wand to point at the screen and tap away on the oversized keys. It doesn't feel bad, actually. It just could use a serious facelift. This thing doesn't exactly do "sleek."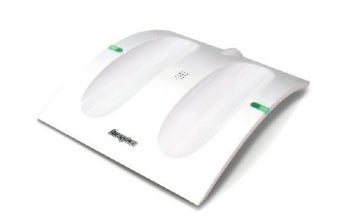 Of course, if you're perfectly happy with your Wiimote as is, but you just don't want to deal with dead batteries, consider checking out PDP's Energizer Induction Charging System for Wii. At $50, it's a bit pricey, but also simple: You pop in your Wiimote on the cradle, and (I'll spare you most of the geek speak here), induction coils let the device slowly collect a charge without having to sweat a direct conductor connection or pulling batteries out. For the style-conscious who don't care about all that, the charger has a sweet look that perfectly matches the Wii so it doesn't stand out like a complete geeky eyesore.