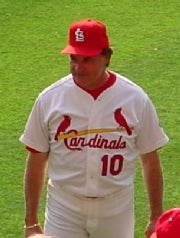 This just in: A well-known sports figure is making himself look like an imbecile.
St. Louis Cardinals manager Tony La Russa is suing Twitter over an account created in his name, according to documents uncovered by the St. Louis Post-Dispatch . The lawsuit, reports indicate, claims someone created the account and sent out "derogatory" remarks under La Russa's name. La Russa apparently felt the tweets damaged his reputation and caused him "significant emotional distress."
Does La Russa have reason to be upset? Sure. But filing a lawsuit strikes me as a rather asinine way to handle his frustrations — and that's why I'm filing these three strikes against him in return.
Strike 1: Filing a lawsuit in the first place. Really, Tony?
In the digital age, being a celebrity exposes you to a certain amount of imitation. Search Twitter, MySpace, or any other social service for a well-known name, and odds are, you'll find plenty of posers. For the love of Judge Judy, develop a thick skin and get over yourself.
If you simply can't handle it, Twitter has a fairly well-defined system for reporting impersonation. "You may not impersonate others through the Twitter service in a manner that does or is intended to mislead, confuse, or deceive others," the site's terms state.
La Russa claims his efforts to have the account removed were ineffective…which brings us to strike 2.
Strike 2: Ignoring a line that seemingly identified the profile as a parody.
Twitter's "Impersonation Policy" clearly states that "parody impersonation accounts" are perfectly permissible. As long as the profile somehow indicates it isn't meant to be legit, it's A-OK by Twitter standards.
The Tony La Russa phony Twitter account, according to USA Today , included a line that stated: "Bio parodies are fun for everyone."
The account is no longer online, so we can't see it firsthand — but that sure sounds to me like a clear indication that it wasn't the real deal.
Strike 3: Trying to blame Twitter for its users' actions.
Everything else aside, if La Russa really has a problem with user-created content on Twitter, attacking Twitter itself is not necessarily the answer. Parts of the case are reminiscent of the distorted logic that led South Carolina's attorney general to threaten Craigslist over its "erotic services" section last month. The A.G. huffed and puffed and swore he'd sue the company, even file criminal charges , if it didn't follow his plan to wipe prostitution ads off the site.
The problem there, as the good folks at the Electronic Frontier Foundation explained, was that Craigslist is effectively shielded from liability over the content its users create. While the circumstances in this instance vary, one has to wonder whether the service itself should be held accountable, particularly given the aforementioned "parody" policy.
Regardless of where the finger's pointed, the truth in all these cases is that the lawsuit ends up causing far more reputation damage than the original review, feedback, or tweets ever could have. You don't see Chuck Norris freaking out over his fake Twitter profile , do you? Take a cue from Walker, Mr. La Russa, and give us all a break.
Connect with JR Raphael on Twitter ( @jr_raphael ) or via his Web site, jrstart.com .