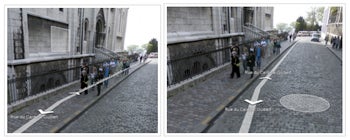 Google's popular and yet controversial (in some places) Street View service received a nifty update this morning, in the shape of smart navigation. Until now, users had to navigate through Street View using some pretty basic forward and backward arrows along the roads, but things are better now.
Smart navigation, as Google calls it, liberates users from the rudimentary road arrows Street View was using for navigation. To release this feature, Google used laser point clouds and differences between consecutive pictures to rebuild road geometry for all of the service's panoramas.
The result: users can navigate around panoramas by double-clicking with the cursor on any place or object they want to see. A 3D-aware circle indicates where the pointer is on the image, which Google affectionately calls a "pancake" because of its appearance when laying flat to the object where the mouse is pointing.
You can move the "pancake" around and, when double-clicking on it, you will be shown the best panorama in that direction. At times, the smart navigation pancake will allow you to zoom on certain images by double-clicking, showing the best view of the selected location. In case you get lost wandering around the panoramas, a helpful back icon will take you to the initial route.
The Google Street View guys made this video to better illustrate the new feature:
Meanwhile, Google's Street View has been having a few bumps down the road in Japan and Greece, where privacy advocates protested against the service. Due to this, Google will have to re-shoot Street View photographs in 12 Japanese cities.
Privacy concerns were also expressed a few weeks ago in Britain, where privacy watchdogs campaigned to close down Google Street View only days after the service was launched in the country.
Regardless, Google doesn't look like it is going to stop mapping the world's cities. The company started to gather Street View imagery from hard-to-reach areas using a tricycle. Check out the slideshow here.
Follow Daniel on Twitter @danielionescu