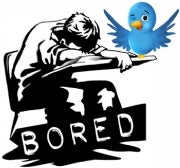 Another day, another gripping Twitter study. Harvard Business research data has proven — without even the faintest glimmer of a doubt, in case you were crushing the guts out of your keyboard in anticipation — that Twitter is a broadcast medium and not a conversation.
What does this mean? It means that Twitter is a one-sided conversation and not a social network. However, the site still claims to be a social network, and many users are under the impression that they are holding deep discussions about sandwiches, TV shows and the like, when, in actuality, they're throwing 140-character blurbs at a brick wall with faces painted on it.
In case you were wondering, yes, this changes everything. Researchers don't study phenomena that aren't culturally and scientifically relevant, right? Why, that would be a colossal waste of time and energy and could never possibly happen.
This new study will surely be placed among the other highly important Twitter studies: users drop out quickly; marketing experts don't understand Twitter (it's like an emo teen that way); Twitter makes you a better employee. The list continues. There is even a Twitter census.
I feel as though the next step in Twitter studies should be a study of Twitter studies themselves. Isn't that like, totally meta? The purpose of the study would be to study why we care about Twitter studies. In studying Twitter studies, studiers would hope to uncover the true meaning behind the microblogging Web site that drives researchers to study. Then we can study that study and finally be through with all the studies.
Let's face it: Twitter is just a Web site. It's an entertainment, a brief release, a blip on the radar screen, a disposable lover, a long-term best friend. It's nothing and everything all at once. We need to stop navel-gazing and learn to either enjoy or ignore it and get on with our lives.