Motorola is clearly gearing up to enter the iPhone-killer market with its own Android-based phone.
Motorola has had posted several job openings for software engineers for Google Android applications (We spotted one on Monster.com, but the post has disappeared. Click on thumbnail image below for screenshot of Monster.com ad).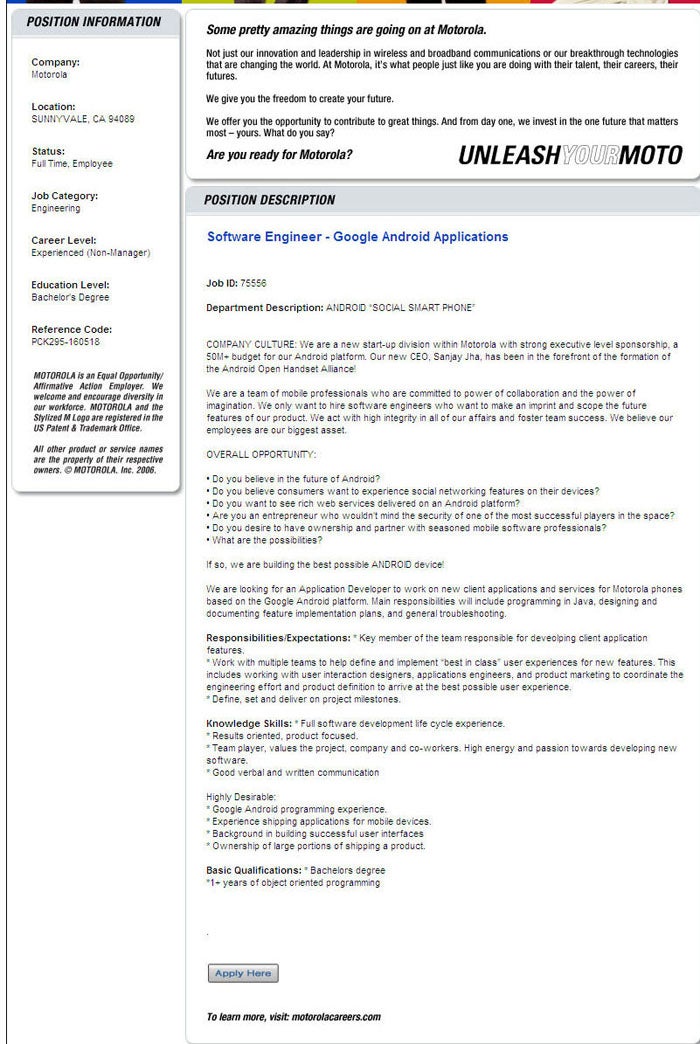 Motorola's commitment is sparking excitement and speculation among Android watchers. Business Week reports that the new device will feature a touchscreen about the size of the iPhone's and a slide-out QWERTY keyboard, and be geared toward social networking. The Moto-droid will also be cheaper than its Android competitor, T-Mobile's G-1. Both require a two-year contract, but Motorola is currently pricing its device at $150 versus the G1, which costs $180.
The social networking aspects of the phone are unknown at this point, but will most likely be similar to the iPhone's Facebook and MySpace Apps, supporting such functions as sending and receiving messages, uploading photos, and viewing status updates.
According to Business Week, Motorola has been shopping the device around to different carriers for the past two months showing off specs and images. Nothing has surfaced online to give us an idea of what the new phone will look like, although it will reportedly resemble Motorola's Krave ZN4 (pictured above). Motorola's new device is expected to ship between spring and early summer next year.