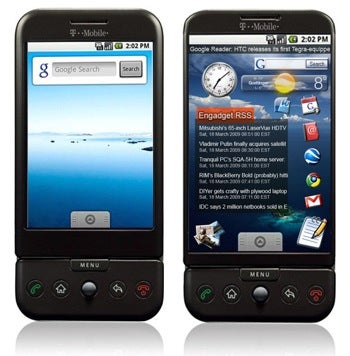 Mock-ups of a so-called T-Mobile G2 have already started appearing on the Internet, while the first Google Android Phone, the T-Mobile G1 is not even on sale until tomorrow.
There's not doubt that Google is already working on an improved version of Android, and so are other major companies. For example, Motorola is working as well on an Android device, said to cost around $150 and feature "heavy" social network integration.
However, it does seem a little bit exaggerated to put forward a sequel of a phone that hasn't even been released yet to consumers. Some websites even mention the T-Mobile G2 being "able to learn from the G1 and become one of the best handsets on the planet."
But I don't want to take this any further. With a bit of light tracing, I found that the original source of these mock-ups was a junior member on an Android forum who "did it on Photoshop to show what I'd like to see as the G2."
So while we hold on tight here in the US until tomorrow to grab a T-Mobile G1, the rest of the world will still have to wait for their Android phone, having to bear fanboy fantasies and mockups.