Love your iPod, but hate iTunes? It's a common feeling among Windows-using iPod owners. We've already discussed what we hate about iTunes; now we present our list of alternatives to Apple's ubiquitous audio player. And almost every program on this list is free, just as iTunes is.
The programs discussed here are a mixture of stand-alone replacements for iTunes and enhancements to iTunes. If you want to replace iTunes completely, we recommend Media Monkey–the most comprehensive of the nine programs on our list. If you just want to make iTunes more manageable, we recommend the super-intuitive program Sharepod. With the right software at your command, you can achieve liberty from iTunes–or at least make iTunes more usable.
Songbird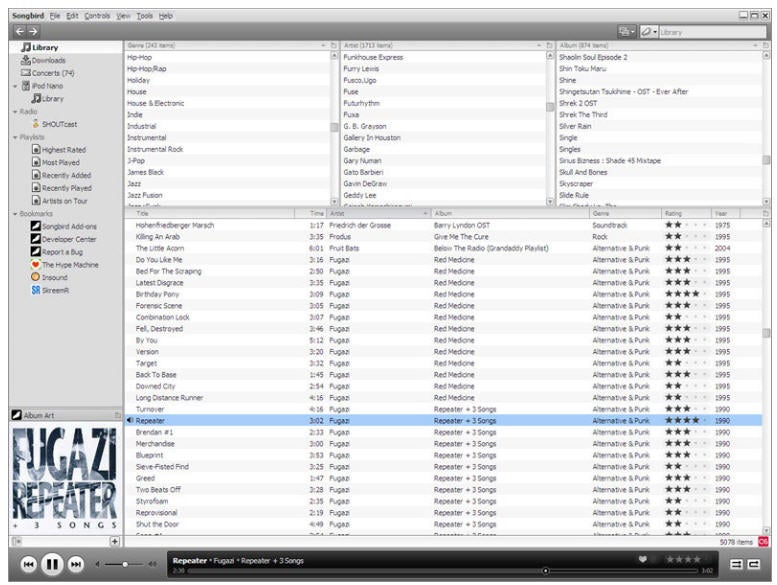 This open-source, customizable music player looks a lot like the iTunes player, but it has the potential to do considerably more than iTunes can. Songbird can handle multiple audio formats, including both Apple FairPlay-encoded audio and Windows Media DRM files. You can customize your player with third-party add-ons to change its appearance, enlarge the built-in Web browser's abilities, extend your playback options, add music discovery features, and more.
Still in beta form, Songbird lacked some important components when I looked at it. In particular, CD ripping, video support, and support for iPhones and the iPod Touch. You may not want to use Songbird as your primary music player yet, but its various add-ons are well worth downloading and playing with. And keep an eye on its progress: On the Songbird Web site, the service notes that it is working to add these missing features.
Download Songbird | Free
Winamp
Before iTunes, there was WinAmp–and it's still around today. Now in version 5.54, WinAmp has a redesigned Now Playing screen with artist photos and album art, similar to iTunes and to Zune's new Now Playing screens. WinAmp also has a slew of cool features, including a library of customization skins, a podcast directory, access to AOL's Shoutcast radio stations, and Auto-Tag (which downloads metatags from Gracenote).
Unfortunately, the free version is missing some ideal components. To burn more than eight audio CDs, or to rip audio CDs to MP3s, you have to get the $20 pro version. And WinAmp is not currently compatible with the iPod Touch and iPhone–a deterrent.
Download WinAmp | Free
MediaMonkey
The best all-out replacement for iTunes, MediaMonkey has flexibility in spades. If you have a gargantuan media collection in dire need of reorganization, MediaMonkey is a must. The most comprehensive program on our list, it does just about everything that iTunes can–and more. MediaMonkey automatically detects duplicate tracks as well as tracks that are missing information and aren't synchronized with your player. Playback features are superb; you can fine-tune your audio with MediaMonkey's equalizer or download one of the audio-effects plug-ins. The software also includes a drag-and-drop playlist manager and Auto-Playlist, which creates playlists for you based on your search criteria.
You can rip audio CDs, too, but the free version's MP3 and M4A encoders are limited to 30 days. MediaMonkey's integrated burner, meanwhile, maxes out at 4X speed on the free version. To get a faster burner and unlimited MP3 encoding, you'll need to download the $20 gold version.
Download MediaMonkey | Free
Anapod Explorer
This program is probably the easiest to learn of any software in our list. Because Anapod Explorer integrates into Windows Explorer, managing your iPod is a simple matter of dragging and dropping. This lightweight program uses other Explorer controls as well, such as Send To menus and copy and paste. Among Anapod Explorer's dizzying array of cool features are automatic repairs to mislabeled or duplicate songs, playlist management, and support for transferring files from iPod to PC and vice versa. And unlike iTunes, Anapod Explorer invites you to use templates to customize the way your iPod displays tracks. Anapod supports MP3, WAV, WMA, iTunes Music Store music, and more. And though it lacks a built-in media player, the Anapod Xtreamer lets you play songs through your favorite media player via HTTP streaming.
This great program comes at a cost, however. Depending on what model of iPod you have, prices range from $20 to $30. Though there is a free trial edition, its features are very limited. And like other software listed here, Anapod Explorer currently doesn't support the iPod Touch or the iPhone.
Download Anapod Explorer | Price: $20 to $30, depending on the associated iPod model
XPlay 3
Like Anapod Explorer, XPlay 3 integrates into Windows Explorer and works with Windows Media Player and Media Center (or with iTunes, if you prefer). It uses the same file-management controls that Windows Explorer does: You can drag and drop files, use the Send To menu, and so on.
XPlay 3 doesn't have as many features as Anapod Explorer–for instance it lacks custom skins and tagging templates–but it does offer quick tagging, album art editing, and playlist management options. You can use XPlay 3 to manage photos on your iPod, too. It costs about the same amount as Anapod Explorer ($30), but the trial version of XPlay 3 is fully functional, so you can give it an accurate test run before buying it. Once again, the software is not compatible with the iPod Touch or the iPhone.
Download XPlay 3 | Price: $30; free trial available
Foobar2000
Like Songbird, Foobar2000 permits third-party sources to create add-ons that extend its functionality. If you are looking for a media player that's heavy on aesthetics and visualization, you might want to look elsewhere. Foobar2000 has a minimalist interface, which you can customize according to how you want to organize and view your media library. Foobar2000 can play a number of formats (including Ogg Vorbis and FLAC) that iTunes does not support. The player delivers high-quality sound output with support for ReplayGain, an algorithm that maintains consistent playback volume for audio files. In addition, you can rip CDs and convert audio files to another format, such as a playlist, using the Converter component.
As the Foobar2000 site observes, this is an "advanced" audio player, meaning that it isn't as user-friendly as iTunes. In audio quality, however, it is superior. Download the player and learn its basic functions before you begin downloading the optional components (which, among other things, allow you to play copy-protected music files from iTunes). Regrettably, this app isn't a wholesale replacement for iTunes: You can't sync your Foobar2000 library back to your iPod.
Download Foobar2000 | Free
Floola
If you want to free up space on your computer, this lightweight, open-source management application may be a good match. It performs virtually all of the functions of iTunes' management utilities, including importing music from your computer to your iPod, managing playlists, and deleting songs from the iPod. It doesn't require installation and can run from a thumb drive or from your iPod. Floola lets you manage your music, photos, videos, podcasts, and playlists, and convert video files to an iPod-compatible format. You can even upload videos from YouTube and MySpace to your iPod by entering the appropriate URL.
Though you can also use Floola as a media player, you probably wouldn't want it to be your primary player. Playback features are limited: There's no equalizer, and the volume controls don't offer much gradation.
Download Floola | Free
YamiPod
Another stand-alone program from Floola's creator, Yamipod lets you copy AAC and MP3 audio files to and from your iPod and PC. It includes support for playlists, importing and exporting files, Last.fm, and RSS and podcasts. Like Floola, Yamipod makes it easy to detect and remove duplicate tracks. It has a music player, too, but no equalizer. One design annoyance involves the arrangement of files in the interface; the album title, rather than the artist, is listed after the song title, which anyone accustomed to the old iTunes layouts will find counterintuitive. The program doesn't list genres either, which could make playlist-building more difficult.
Download YamiPod | Free
Sharepod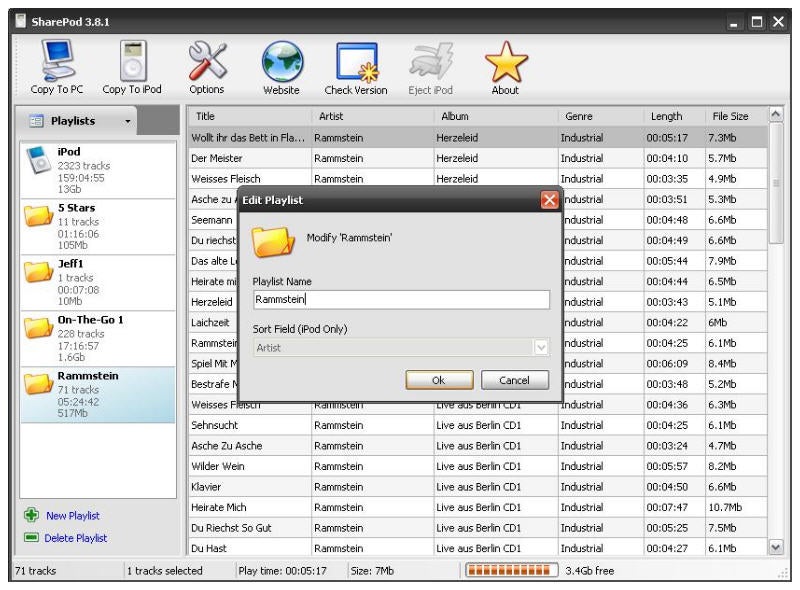 Since iTunes won't let you transfer your iPod's contents onto another PC, you need to go elsewhere for that ability. Enter Sharepod, a lightweight, minimalist program that doesn't require installation and lets you manage your library on your iPod through Windows Explorer. You can copy music, videos, and playlists from your iPod to your PC and import them into your iTunes library. Sharepod has a clean, intuitive interface; but unlike most of the programs on this list, it does not offer playback support.
Download Sharepod | Free