At a Glance
Expert's Rating
Pros
Fonts are large, heavy, and easy to read
Free Google-like maps with written directions
Cons
Some traffic reports spotty; menus awkward
Voice-recog input doesn't autostart directions
Our Verdict
Sprint Navigation gives accurate turn-by-turn directions, but the interface isn't as user-friendly as that of AT&T or Verizon's applications.
Traveling a lot, and feeling lost? You don't have to remain directionless–and you don't need to spend hundreds of dollars on a dedicated GPS navigation device, either. AT&T Wireless, Sprint, and Verizon Wireless all have their own navigation applications for their GPS-enabled phones.
To see how they stacked up, I tried all three apps on BlackBerry Curves, and I found that they all worked as promised–mostly. They weren't identical, however, and though I'm not ready to give up my Garmin Nuvi, I'd recommend AT&T Navigator to anyone who wants to use their phone as a navigation system.
Got a GPS?
I'll tell you right away: I'm in love with dedicated GPS navigation devices, and I'm spoiled. I've tried lots of them, and I'm hooked on Garmin's Nuvi 760, a $350 handheld GPS device that I wouldn't give up on a bet. (See "Notes From the Road: Wi-Fi Tips, Garmin GPS Test Run" for more details.)
On top of that, my wife, Judy, is a top-notch map reader (and like most GPSs, she can change her voice and do a great London accent). So when PC World asked me to try a few more–and said they'd pay me to do it–I jumped.
Besides, I was mighty curious to see how usable GPS navigational tools are when packaged on a handset. The quick answer: They're very accurate, and wonderfully handy. They'll create a route and get you to your destination with minimal hassle; they'll also find you a Starbucks and give you voice and on-screen turn-by-turn directions.
All three services have one significant limitation, though–and I'll talk more about that in a minute.
Leveling the GPS Playing Field
To level the playing field, I tried finding my way around town using one of the best handsets available for GPS navigation, the BlackBerry Curve. I received BlackBerry Curve loaners from three wireless vendors with their branded GPS tools, and played with them for a month.
Verizon sent me one with its VZ Navigator, which uses Networks in Motion for its GPS application. AT&T Navigator is powered by TeleNav; ditto for Sprint Navigation. But while the AT&T and Sprint apps offer similar interfaces, AT&T's has features missing in the Sprint version. All three services charge $10 a month or $3 a day, exclusive of data charges (more on that later).
Of course, I would have liked to include something from T-Mobile, but that company is the only major national carrier that doesn't offer its own branded GPS app.
One thing to keep in mind as you visualize using a carrier-branded GPS tool on your cell phone: Each of these applications varies somewhat depending on the capability of the phone. For instance, on a little flip phone Sprint Navigation might not be able to do everything you can do with the same app on a BlackBerry.
You're also going to be in for a surprise when you go to out-of-the-way spots or head off-road. Much, if not all, of the GPS functionality depends on having a network connection. That's because all three phones rely on data on their respective carrier's server as well as the GPS. Each time you search for a business, ask for a new route, or need a traffic report, the wireless connection gets the new data.
The good news is that the data generally is current, which might not be the case for the points-of-interest database stored on an older dedicated GPS device.
If you're out of range of a cell tower, though, you can pretty much toss the cell phone into the glove compartment. We got excellent reception in metropolitan areas, but in Jalama, a camping spot on the central coast of California, we were dead in the water. This limitation is a major drawback for cell phone GPS applications in comparison with in-the-vehicle or dedicated GPS devices such as the Nuvi, which need only GPS satellite reception to work. (It also makes me wonder: How come Jack Bauer in 24 never has this problem with his cell phone?)
Talk to Me, GPS
I tried the cell phone apps in metropolitan areas, such as Pasadena, greater Los Angeles, and Irwindale; I also took them on a longer road trip along the coast of California, specifically to Ventura and Lompoc.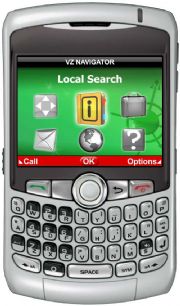 In conducting my field tests, I had a few questions in mind. The first was obvious: Would the navigation application accurately and efficiently figure out where I was and guide me to where I wanted to go? Next, would it find places–pharmacies, gas stations, restaurants, whatever–and make it easy for me to route to those spots?
I also wanted to know if the GPS apps could feed me traffic information well enough to help avoid freeway jams (and, living in Southern California, I had no trouble finding traffic to sit in).
Hands-Free Navigation
I tried the services both as driver and passenger. The distinction is critical, because if you were a passenger with me at the wheel, you wouldn't want me fiddling with the BlackBerry's keypad or grabbing quick looks at its screen. And in many states–California, for one–it's against the law to use the phone while driving. So the navigation system had to be able to tell me when and where to turn with a minimum of my involvement.
Testing as a driver, I'd first set the route manually, either from the side of the road or from home. If you're a BlackBerry addict, you won't find tapping in destinations difficult. I'm BlackBerry-challenged, though, and I struggled to key in text. (I imagine I'd have the same hassle using the tiny keyboard on any cell phone.) That's why I prefer adding addresses on the carrier's Web site and then syncing them to the BlackBerry, which you can do with all of the apps.
Even better, though, is AT&T and Sprint's feature that lets you call a toll-free number and speak an address. When you do that, the application pauses and another disembodied voice reads back the address to check accuracy. On the Sprint application, you still have to navigate to a different screen to get the GPS to route you to the location, so you'll need to pull over to the side of the road; the AT&T app, in contrast, immediately begins delivering voice turn-by-turn directions.
(A brief aside: Location sharing is a nice tool, available on AT&T and Sprint devices using any TeleNav app (regardless of carrier or branding) for GPS navigation. It lets you send a location search result that you've found to other users–either as a link to view a map and a text message, or, if your buddy is also using a TeleNav-powered device, by launching the application. You can also share your search results through TeleNav's Web site or right from the BlackBerry. Way cool.)
Once I set the route, each device kept me on track. As you'd expect, I got a warning from a disembodied female voice that I'd need to turn or exit the freeway; I'd hear the alert again as I got closer to the upcoming turn or ramp.
Pressing the space bar repeated the instructions; adjusting the volume using the controls on the side of the BlackBerry was easy too. The AT&T and Sprint applications also verbally alerted me of traffic ahead; the warnings told me how far off the slowdown would be. The Verizon service posted traffic alerts only on screen–not good if you're driving alone.
(Quick tip: If you're using any of these services on the road, don't forget to bring a car charger or an extra battery. With heavy GPS use, the battery life was often no more than about 3 hours on all three devices.)
Loaded With GPS Goodies
If you're using these GPS applications as a passenger and you don't need your eyes on the road, you can take advantage of all of their nifty built-in gizmos–and they have plenty. For instance, each model displays traffic on the map itself, showing how far off the traffic is, and the speed at the jam location.
You can also view traffic jams as a list, stepping through locations along the route and seeing what speed you'd be going. As you might expect, all of the devices offer a way to reroute you through traffic; if you're not driving, you can press a few buttons to take advantage of an alternate route.
While you're staring at the map, you might want a different view–say, a close-up of local streets. Verizon's VZ Navigator has an easy way to zoom in and out of a map: Just press the BlackBerry's pearl and scroll left or right to zoom in or out. In contrast, both the AT&T and Sprint force you to use the keyboard's # sign or plus key, a more awkward approach to zooming.
If you want to see where you are and where you're going, even if you don't have a specific route, you'll like Verizon's VZ Navigator Follow Me Map, which shows your position as you move around. While not terribly valuable, it's certainly cool and fun to look at.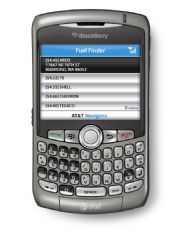 Given the state of the economy, location-based gas-price listings are a valuable feature, and all three services offer them. You can search for gas by grade of gasoline (including diesel), or by price. TeleNav-powered phones update the pricing daily for major metro areas; if a gas station doesn't send data within three days, it's dropped from the system.
If you're looking for a restaurant recommendation, you're in luck. Each device has a way to search for a spot to eat–or, for that matter, a movie, or an event such as a concert. On AT&T and Sprint models, you can search by the most popular items in a category; you can also save on using costly 411 services, as you can immediately call the restaurant, or simply use the navigation program to head on over from wherever you are. The reviews and ratings are from Yelp or from other TeleNav users, but the restaurant reviews aren't nearly as valuable as those on ChowHound.
Also, performance of the search features was spotty, depending on network traffic and access to both GPS satellites and cell towers. For instance, the first time I searched VZ Navigator for Chinese restaurants along my route, it came up with no results; subsequent searches appeared quickly. Luckily I wasn't hungry when I tried the search with the Sprint phone, because I wouldn't have wanted to wait the 2 minutes it took to deliver results.
Going Off Course
Unfortunately, cell service and satellite feeds are finicky, so not everything worked well in my tests. Traffic reports, for instance, weren't always accurate. On one trip to Costco, the AT&T and Sprint phones reported traffic alerts ahead. We sailed smoothly through the alert because there were no traffic tie-ups; both reports were too dated, despite the fact that they're supposed to occur in real time. Verizon's VZ Navigator was more accurate, as it didn't report any traffic problems ahead.
On another occasion the Sprint reported traffic problems 2 miles ahead but the AT&T said 1.5 miles ahead; the other anomaly was that the Sprint gave the alert a severity rating of one while the AT&T called the same alert a four. In this case, traffic slowed just a little bit, so the Sprint service was on target.
One neat feature: If you're a regular commuter, you'll like AT&T's Commuter Alert. It gives you a way to set up a specific route and have it automatically check the traffic, at, say, 5 p.m., just before you leave work (if you really leave that early).
Considering the Costs
Each vendor has a different way of charging for the data streams–say, downloading maps and doing searches. An average route is about 35kb.
For example, AT&T Navigator says that charges apply for route information. On the other hand, Sprint says that you'll need a data plan, otherwise you'll get hit with extra data charges. In general, if you're planning to make extensive use of a cell phone GPS application, you're probably better off with an all-you-can-eat data plan.
TeleNav's Web site offers a 30-day free trial on all supported models listed. At the company's online store, simply select a plan and give your credit card information. TeleNav says you won't be billed for the 30-day free trial. Keep in mind, however, that if you don't want to continue with the service–and the monthly fee–you must cancel at the end of the trial period.
Choose Me, Choose Me
Because of the size and portability of a BlackBerry– or any mobile phone–cell phone navigation services are perfect for the business traveler. And I suspect that most cell phone users are in big cities, or at least big enough cities where you almost always get reception on major carriers.
But if you're a serious recreational user of GPS, you won't enjoy the significant screen-size limitation and the constant scrolling to move around the map. I'd say you'd be happier with a dedicated GPS device sporting a bigger screen. (For more information about such products, read "How to Buy a GPS Device" and "GPS Devices: Road-Tested and Reviewed.")
That said, if I had to choose one of these apps to use regularly, given that pricing for the three services is the same, it would be AT&T Navigator. While I liked VZ Navigator's zooming features and easy-to-read screen, and Sprint's bigger-than-the-others fonts, AT&T had more going for it in overall ease of use and features. For instance, AT&T's Pedestrian Mode is a terrific addition, helping me to find my way back to my car in a massive parking lot or to navigate while walking in an unfamiliar neighborhood.
Steve Bass is a former PC World contributing editor who now publishes a weekly newsletter at TechBite.com.