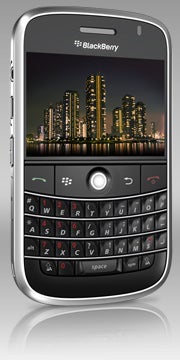 Research In Motion doesn't mind stealing Android's thunder. Details about the long-delayed BlackBerry Bold, RIM's new weapon in the 3G battle, were revealed Wednesday — yep, right smack in the middle of Google's G1 release day glory.
RIM says its BlackBerry Bold phone will become available on AT&T starting November 4. Bold's pricetag isn't too timid, either: The phone will sell for a cool $300, two-year contract included. Compare that to the $200 iPhone 3G and $180 T-Mobile G1, and you'll see where Bold earns its name.
Breaking Down Bold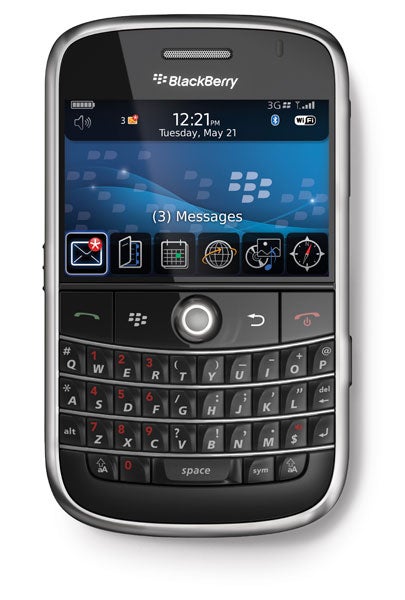 So will Bold be worth the big stack of bills? Maybe. The device — first flaunted back in May, before the iPhone 3G had even entered our vocabulary — has seen delay after delay as RIM worked to perfect its network performance. RIM and AT&T are certainly hoping all the waiting will pay off. Here's what you can expect in the Bold:
* An iPhone-esque look with a customizable leatherette backplate (add-on colored shells let you switch out the hue)
*A tweaked-up QWERTY keyboard with specially sculpted keys meant to avoid slipping and new thin metal dividers between each key
* Support for 3G, HSDPA, and EDGE
* Simultaneous voice and data capability
* 802.11a/b/g WiFi
* Stereo Bluetooth
* Standard 3.5mm headphone jack (sorry, G1)
* Full GPS capabilities
* A 2-megapixel camera with 5X digital zoom
* A 624 MHz mobile processor with 1GB on-board memory and 16GB additional memory capacity
Now, to be clear, Bold isn't BlackBerry's answer to the iPhone; that's the Storm, expected to hit stores by the holidays. Bold lacks the iPhone's touch technology, screen size, and accelerometer. Its AT&T Mobile Music Service is also no match for Apple's ubiquitous iTunes offering. But for business users seeking a full office suite and a non-virtual keyboard in a powerfully updated package, Bold might just be the right next step — if, of course, the cost isn't too much of a burden.