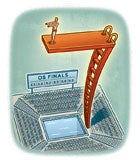 As users continue to grouse about Windows Vista nearly two years after its introduction, Microsoft appears relieved to turn its public focus on the next release of its flagship operating system. Pre-beta code (as Microsoft calls it) for Windows 7 is reportedly already in developers' hands, and reviewers are slated to have their first peek on the eve of the Microsoft Professional Developers Conference in Los Angeles during the last week of October. Officially, the OS itself is slated to appear in early 2010–although some industry insiders say it may arrive before the end of 2009.
Last spring, Microsoft's lead Windows spokesperson Chris Flores wrote a blog post saying Windows 7 would refine (but not abandon) the Vista kernel. However, additional details about the new OS have been scant–and Flores and others have basically said this is because they don't want to create expectations that might not be fulfilled. (Remember when Vista was going to include the database-like WinFS file system?) Consequently Microsoft says it will talk only about features that will definitely be in the OS.
The company declined interview requests for this story, pointing to various internal blogs that include Windows 7-related posts–most notably the Engineering Windows 7 blog hosted by senior Windows engineering managers Jon DeVaan and Steven Sinofsky on the Microsoft Software Developers Network. Here's what we've gleaned from the blogs and from assorted published reports:
Performance: Although Windows 7 will be built on the same code base as Windows Vista, a Fundamentals team (one of 25 within the Windows 7 development group) is working to speed up boot time, in part by trying to reduce the number of startup services, and to optimize the OS to take better advantage of technologies such as solid-state drives.
Let's hope those improvements are more effective than those that Vista Service Pack 1 provided. In our WorldBench 6 tests, Vista SP1 generated only a marginal performance improvement over the original version of Vista-and both versions' performance fell far short of Windows XP SP2's.
Interface Enhancements
In one of the few early demonstrations of Windows 7, Bill Gates and Steve Ballmer last spring showed off its use of multitouch technology, similar to that in Microsoft's Surface tabletop computer.
In blog postings, Microsoft engineers have said they're working on improving the taskbar to better support users who tend to open large numbers of windows on their screen (the company's research indicates that nearly half of all users keep as many as six to nine windows open at a time), as well as to provide better ways to manage the windows themselves (including their size and arrangement). Published reports indicate that the ribbon interface that made its debut in core Office 2007 applications may also be a feature of Windows 7.
One Engineering Windows 7 blog post says that developers are looking into ways to customize notifications (the balloons that pop up on your taskbar to inform you about software and hardware updates), since many people find them intrusive. The same post suggests that Microsoft wants to better expose Windows Media features (its research shows that only 10 percent of users actually enable the Windows Media Toolbar). But the post stresses that users should be in control, because one person's useful toolbar is another's desktop clutter.
Applications: Microsoft officials have said that many of the traditional Windows accessories and applications that were bundled in Vista (including the Windows Mail e-mail client and image and video editors) will not be included in a standard Windows 7 installation. Instead, you will have the option of downloading Web-based Windows Live apps (as described on the third page of this story).
User Account Control Revisited
Microsoft has said that the underpinnings (APIs and logo requirements) of the User Account Control security feature in Windows Vista won't change in Windows 7, but the actual user experience will. Intended to prevent unauthorized software installations, UAC is one of the most controversial features in Vista, drawing wide criticism for its intrusiveness. As a result, Microsoft says new features in Windows 7 will allow developers to reduce the number of User Account Control prompts, thereby speeding up application installations.
Improved graphics: Though Windows Vista's Aero environment is designed to take advantage of the power available in modern graphics processors, Microsoft apparently believes that more remains to be done. Among other things, company blogs have devoted considerable ink to discussing how applications could be optimized to look better on high-DPI (dots-per-inch) displays.
Energy-efficient computing: A description for a session at this October's Microsoft Professional Developers Conference says that with Windows 7, software developers will find it easier to design applications that "do not negatively impact mobile PC battery life."
World support: Another PDC session blurb says Windows 7 will include new globalization support that will make it easier to change the languages and other location-related features of applications.
Server version: This won't be a major release. In fact, Microsoft has said that the server version of Windows 7 will be what was originally planned as Windows Server 2008 release 2 (the initial release, hailed as one of the most significant Windows Server upgrades in years, is less than a year old, having shipped last February).
Networking, Printing, and Search
The names of the 25 engineering groups working on Windows 7 suggest other areas where Microsoft will be tinkering. An entire group is devoted to wireless networking, for example. A documents and printing group is no doubt an effort to build support for the XPS (XML Paper Specification) document-printing format introduced with Windows Vista. In addition, the presence of a group called "Find and Organize" suggests that Microsoft has not yet finished working on Windows' search capabilities.
Microsoft plans to reveal many more details at both PDC and the Windows Hardware Engineering Conference in early November. Ironically, however, even as it geared up for these milestone events, the company announced it would extend the cutoff date for providing discs for Windows XP Professional to new Vista PC buyers who wish to downgrade. Originally slated to end on January 31, that program will now continue through the end of July 2009.
Leaner Windows 7 Will Let You Add Features À la Carte
It may be hard to believe that Microsoft is prepping a version of Windows without e-mail, calendar, and instant messaging apps. After all, some of those features have been bundled with Windows almost from the start; with Vista, the list got longer, including additions such as Windows Photo Gallery and Vista Parental Controls. But Microsoft officials say the plan for Windows 7 is to deliver a lean operating system that lets you add the features you like, choosing à la carte from a suite of Windows Live Essentials programs you download.
Some applets are already available in beta form at download.live.com; more are expected to debut in mid-November. All have (or will have) hooks to free services such as online file storage, photo sharing, and collaboration tools.
Windows Live general manager Brian Hall says that stripping accessory programs from Windows will allow Microsoft to focus on the development of the operating system and streamline its support (service packs should be smaller-and possibly fewer-for a smaller OS). Hall adds that a "cleaner" operating system eliminates potential confusion for customers faced with two different programs that are similar in function-one already in Windows and the other from Windows Live.
When Windows 7 is available, Hall says, Microsoft will work with PC makers to place a desktop shortcut that will link to a download page where you can choose just the programs you want. Here's a list of what's available now from Windows Live.
• Windows Live Messenger beta: This instant messaging application has phone- and video-calling capabilities too.
• Windows Live Mail beta: In this e-mail program, you can merge multiple e-mail accounts. It also includes a calendar that syncs with a Windows Live Web-based calendar.
• Windows Live Photo Gallery beta: Similar to Google's Picasa, this photo organizing and basic photo editing program has hooks to Microsoft's Windows Live Photo Gallery as well as to third-party photo-sharing sites such as Flickr.
• Windows Live Movie Maker beta : This video editing software also automates the creation of movies from your own photos, videos, and music. The application can burn video to CD/DVD, or convert it for viewing on a cell phone or for posting online at Microsoft's Soapbox video-sharing site.
• Windows Live Writer beta: An application for composing and publishing blog entries to Windows Live Spaces, it also works with other blogging platforms, including Blogger and WordPress.
• Windows Live Family Safety: Through this parental control software, parents can limit the type of content that their children can access online and monitor their surfing activity.
• Windows Live Toolbar: This updated Internet Explorer toolbar enables fast access to Windows Live Web services.
Tom Spring of PC World contributed to this story.