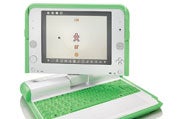 I really cannot overstate how impressed I am with the One Laptop Per Child program. Sure, the XO laptops may seem underpowered, but for their purpose as a cheap learning tool for use in developing nations, it's just about perfect.
But one complaint that the OLPC program has received from many countries is that the XO laptop doesn't use a Windows operating system, instead running the Linux-based Sugar operating system. While some countries still prefer the open-source nature of Linux for teaching, others argue that without Windows their students will not be prepared for higher paying jobs in a global workplace dominated by Windows operating systems.
In response OLPC will be introducing an XO laptop running on a version of Windows XP Pro built specifically for the technical limitations of the XO laptop. Peru will be the first country to get its hands on the Windows laptop. A dual-boot edition is also supposed to be in the works.
The question is, which version do children prefer? The 8-year-old daughter of a Cnet editor tested both versions of the XO laptop. While the girl enjoyed the Windows XO and thought that it was easier to use, she ultimately preferred the Linux-based XO because of the array of pre-installed learning games that comes with it, lacking from the Windows version. Of course both versions, when properly incorporated into school curriculums, will be an amazing resource for the children using them, so there really is no wrong operating system.
So when will we be able to get our hands on the Windows XO through the Give 1 Get 1 program? Unfortunately, we won't be able to. OLPC does not plan to make the Windows XO available in the US. So while you can still donate a Windows XO laptop, you won't be able to get one of your very own. The Give 1 Get 1 program still runs strong for the Linux XO laptops, though, so those wanting to give the XO a try can still get one while donating to an amazing cause.