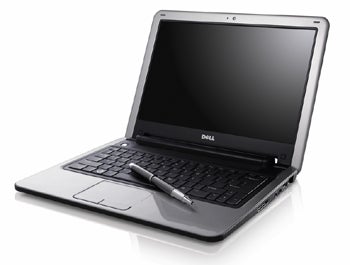 Japan retailers get the jump on the U.S. market today as they get to sell Dell's new laptop, the Inspiron Mini 12, before anyone here in the U.S. even gets to lay eyes upon it. While built-to-order models will be available in the states by mid-November, three retail chains in Japan (Bic Camera, Kujima, and Sofmap) get the first crack at selling preconfigured versions of Dell's 12.1-inch take on the mini-note space.
You read that right: a netbook with a 12.1-inch CCFL (Cold Cathode Fluorescent Lamp) illuminated screen. That's larger than some ultraportable notebooks currently on the market — and a pretty significant jump from Dell's first stab at the mini-note space. The Inspiron Mini 9 had small solid state drives, a tiny 8.9-inch screen and honestly, some pokey performance. I mean, you keep expectations in check when it comes to netbook performance, but the mini 9 garnered a sadsack score of 26 in WorldBench (as opposed to the average score of about 35).
The Mini 12, by comparison, adds a larger screen without tacking on too much to the form factor. (It weighs 2.72 pounds and measures 0.92 to 1.09 by 11.77 by 9.02 inches.) Intel's Atom Z520 1.33-GHz processor or the Z530 1.6-GHz 2-watt Menlo Silverthorn processors power the Mini 12. (For a little perspective, the Inspiron Mini 9 was based off last gen's Diamondville CPU.) OK, so these machines will have this new take on the Atom CPU, Intel's GMA 500 integrated graphics chip, and 1GB of RAM under the hood. Hopefully, that'll juice up its performance scores when we get one here in the PC World labs. These units also house a 40, 60, or 80GB 1.8-inch 4200 rpm hard drive — a far cry from the 8GB flash drive in the Mini 9.
The base system comes with a 3-cell processor, which Dell spokespeople promise yields three hours battery life. (And optional 6-cell exists, but that tacks on another $30 to the price.)
Dell's new mini-notes also pack in a VGA out (only slightly smaller than the thickness of the device), three USB ports, a SD / MMC flash card slot, an RJ-45 ethernet 10/100 jack, a 1.3 megapixel camera, and the ability to transmit Bluetooth 2.1 and 802.11 b/g.
Here's the really gutsy move — and one that I'm not sure I'm buying into just yet. Dell is initially shipping the Mini 12 with Vista Basic as the default OS. REALLY?!? Do you really want to see a machine actually cry? OK, maybe I'm being a little overly cynical. I'll keep my gut feelings in check and wait for when we have units in-house for testing. Unless, of course, you wait for the inevitable Unbuntu and XP versions of the machine that Dell promises will show later this year.
So what does this tech tidbit cost you? Between $500 and $600, depending on a couple configuration options. Yep, the Mini 12 teeters on the top-end of the netbook spectrum and, as a result, poses a very interesting question (well, to me, at least): When does a notebook officially start becoming a notebook? Hopefully, we'll have more of an answer for you before the Inspiron Mini 12 launches late-November.