Google Earth has arrived as a free application on the iPhone and iPod Touch, and it's a fantastic mobile iteration of the desktop application. You should run over to the App Store right away.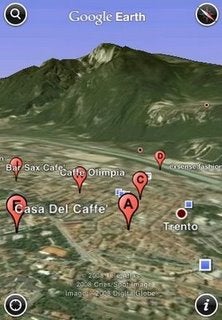 From the opening screen, you can allow GPS to determine your location or use Google's search function to narrow down your destination. When you've found where you want to go, Google Earth uses all of the iPhone's multi-touch gestures to provide an interactive experience. You can tilt the phone up or down to switch to the horizon view, which is perfect for mountainous terrain. You can also make two-fingered circles and spin the landscape to your liking. Tapping on the compass in the upper right-hand corner of the screen realigns you northward. Use the iPhone's pinch to zoom in and out or double-tap with one finger to zoom in or with two fingers to zoom out. Swiping a finger spins the globe around. It really does make you feel like the world is at your fingertips.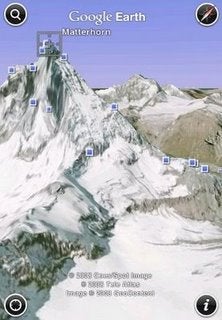 Paired with Wikipedia and eight million Panoramio geo-located photos, you can touch location-specific icons to read up on your locale and check out some beautiful snaps. Though the icons are very small, I had no problem selecting the correct one. Google's local search engine helps you find specific businesses and then meshes with Google Maps to give you immediate directions.
I played with Google Earth on the Edge network and though it ran slowly and the graphics took a while to load, it still performed well enough to make for a great first impression.
Google Earth is a great addition to the App Store. Not only is it useful for tourism and information hunting, it's also highly entertaining. And it's free, so there's no reason why it hasn't already been added to your app collection.