Microsoft revealed a significant shift in its strategy Monday, introducing two new and drastically different Windows products at its annual Professional Developers Conference in Los Angeles. First, there is Microsoft's cloud-based Windows system, Azure, which takes the focus away from the individual PC and has Microsoft customers relying more on Web services instead of desktop applications. Then, there is Vista's successor, Windows 7, which serves as Microsoft's next operating system (OS) — but without the bulk.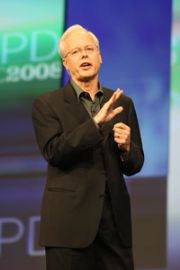 Azure is being billed by Microsoft as a cloud operating system, or an OS that exists within a network framework. Developers will create services and applications based on the framework. Consumers will then use those applications in a hybrid desktop-online manner, similar to how Windows Live Services such as Windows Live Photo Gallery function now. For example, you can access and manage your photo library via either a Web browser or a Windows Live Photo Gallery – blurring the line between Web service and desktop application.
Then there is Windows 7, slated for release in 2010. It presents users with a leaner OS, pushing consumers to rely more on Windows Live Services such as Windows Mail or Movie Maker. Gone will be the plethora of built-in software applications, with programs instead being downloaded a' la carte as desired.
Windows 7 and Azure Herald Web-Centric Era
As Microsoft works to move into the more network-driven world of modern computing, the two new approaches raise questions over the future of the operating system. Are the days of the heavy duty, client-centric OS coming to an end?
Both Azure and Windows 7 bring users more to Microsoft's data centers and less to their own hard drives, though to varying degrees. The transition is not a surprising one, as competitors such as Google continue to make headway in the network-based business model. (Think Google Gears.)
"The Microsoft developments portend something that's been happening in the mobile computing world and in other parts of the IT world for quite a while," says Charles King, principal analyst with Pund-It. "Consumers of IT have become more and more disassociated from packaged software. So much of the way that people engage with information via the computer has to do with information sources and applications and applets that are really very amorphous."
Less Bloat, More Web
Still, for a company that last released an operating system bashed for its bulging nature, the products represent an undeniable 180 degree turn in tactic. The age-old idea of buying a computer full of applications will be replaced by a philosophy of: "You want it? Come and get it." In Azure's case, the online reliance will be absolute — but even in the setting of Windows 7, which will still depend on a locally-based core, the level of Internet integration is a step away from the package-defined OS we've come to know.
"It's critical for vendors like Microsoft to be ready for that and to find a way that they can continue to play and be relevant," King says.
Simpler and More Reliable
So what will the less localized OS actually mean? Microsoft says the shift will bring about a "cleaner" system. In general, the trending toward Web-based applications could help cut down on the hassles surrounding updates and program maintenance.
"The evolution of the product becomes more seamless and doesn't require as much thought," King points out.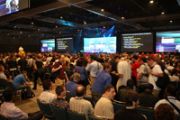 Microsoft Chief Software Architect Ray Ozzie suggested during Monday's keynote address that relying on Azure rather than a PC's OS would create a more stable platform. With Windows Azure, he says, there is no single point of failure — so if one computer goes down, all the applications and data won't go with it.
Word of Caution
On the flipside, as more applications move toward the Web, the already swirling concerns regarding data use become more and more prevalent. You can access information from anywhere — but so, in theory, can anyone else.
"As the online application world develops, we could see some interesting effects around security and privacy," King says. "How that all shakes out over time is going to be very interesting."
Ultimately, though, if developers do their jobs well, casual users may not even notice the difference.
"At the end of the day, consumers want the service, they want the application. Where it resides — whether it resides on their individual client, or resides online, or resides on a server someplace — doesn't really matter to them," King says.
Specific details about Windows 7 are expected to be revealed Tuesday. No release date or pricing information has yet been discussed for Azure.