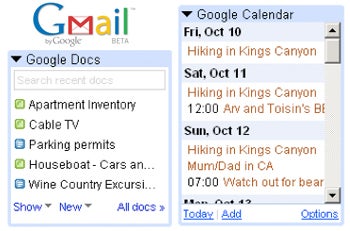 Ever want to have a quick glance at your calendar appointments while in Gmail? Users so far had to open separate tabs for access to their Google Calendar and Google Doc documents. But now there's an easier way. Google labs announced last night two gadgets that integrate with Gmail and allow users have a quick look at their Google calendar appointments and recently accessed documents right from within their Gmail inbox.
It's been a while now since many have asked publicly for this feature and Google finally complied. You can head over to Settings/Labs in Gmail and enable the two new features that will dock on the left side of your inbox. Using the other Labs features, you can reorder your gadgets and move some of them (chat, labels) on the right side, for a more comprehensive inbox.
The calendar gadget displays your latest entries in an agenda style while the documents gadget will show the latest used documents together with a search function. A third feature was also launched that allows you to add any other gadget by pasting the URL of the file. However, even the Google team admits that the third feature "isn't very user friendly right now," but hopefully we will see some improvements soon.
If you're concerned with security though, keep in mind that not all gadgets are fully compatible with https, so the ones connecting to Gmail via https might get mixed content warnings. The Labs team said that it is "working on fixing this."
Google Beefs Up Gmail
Google Labs has been at the forefront of innovation at Google lately, releasing a plethora of new features for Gmail's 100 plus million users over the past month. As a quick recap, we had emoticons, canned responses, contacts improvements, advanced IMAP controls and Mail Goggles, all in just one month.
Someone up there on the Google cloud must be watching which Labs features users activate for their Gmail accounts and tally up whether these new features will be part of a final Gmail version. However, while Gmail is still in a perpetual beta status, I wonder who has more input into shaping the future versions of Gmail: the personal user or the businesses that use Google Apps?