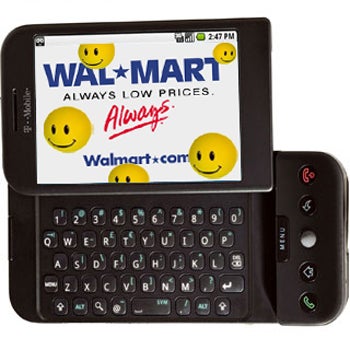 T-Mobile's G1 Android phone is about to get cheaper — at least, if you look in the right place. Wal-Mart will start selling the Google-powered device at a discounted rate this week, the company has confirmed.
Attention Wal-Mart Shoppers…
The G1 will become available Wednesday in select Wal-Mart stores for $148.88, with a two-year agreement. That's $31.11, or about 17 percent, less than the T-Mobile pricetag of $179.99. The offer will be available to all new T-Mobile customers and to any existing customers who qualify for upgrades. As of now, about 550 locations are slated to participate.
"They will launch in top markets where consumer interest is expected to be very high and where the T-Mobile 3G coverage area is available," says Wal-Mart spokesperson Melissa O'Brien.
Most major metropolitan areas will be included, O'Brien says, though specific locations aren't yet being revealed — so you may want to make some calls before you make the drive. More stores are expected to be added as the phone becomes more readily available.
Cost Comparison
The Wal-Mart distribution deal gives G1 added bragging rights when it comes to comparative sticker price. The iPhone 3G, available through AT&T and Apple, starts at $199. A $20 difference, as originally established with T-Mobile's G1 price, may not sound like much. Savings of $50, though, could be a stronger selling point.
Mobile Math
G1's manufacturer, HTC, is now projecting sales of 600,000 devices by the end of the year, according to a published interview with its chief executive last week.
"It will be more than what we originally planned," CEO Peter Chou told The Mercury News . "I'm saying we will ship more than 600,000."
Early estimates had placed G1 pre-order sales alone at 1.5 million, though those figures were later called into question. As for future sales, Chou declined to provide any specific numbers but said he expects to "do more next year."
"We are confident about our competitiveness," he stated.