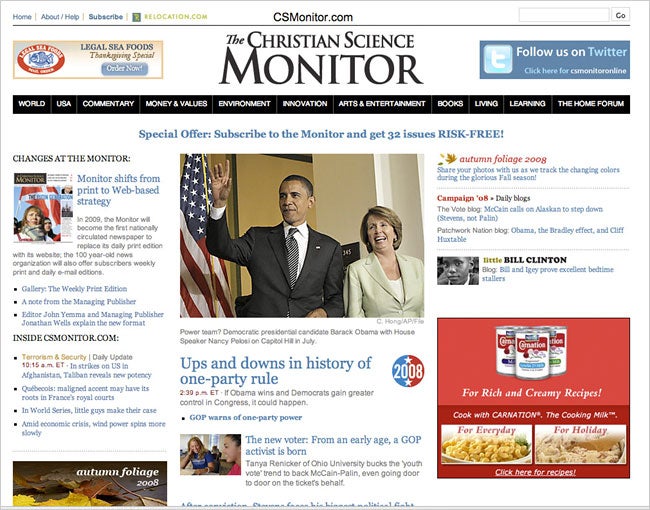 In the first of what could be a series of print newspaper closings, the Christian Science Monitor has announced the end of its daily print format and its switch to a Web-based publication. Starting April 2009, the 100-year-old news organization will no longer publish daily physical newspapers and will focus its content on the Internet. It will, however, publish a weekly print magazine.
The new daily edition of the Monitor will be available by paid subscription and delivered as a PDF file via e-mail Monday through Friday. The weekly print edition will cost $3.50 per copy or $89 for a year's subscription. The print edition will feature more in-depth content on high quality 10-by-12-inch paper.
The majority of the decision is based on money. The Monitor is a nonprofit financed by a church and delivered through the mail, and has seen a steady decline in readership over the past 40 years. For it to be the first print newspaper to close makes sense in these circumstances, and may not herald the immediate foreclosure of other, wealthier news organizations.
For years, the newspaper industry has declined in profit and subscriptions, as newsmongers more often than not log onto the Internet to get their daily fix. In the era of RSS feeds and constantly updating blogs, physical newspapers are hard pressed to compete against the sheer volume of material and wide range of sources. By mid-afternoon, most print dailies are old news.
With its decision to go online-only, the Monitor not only stabilizes its finances — allowing better funding for journalism abroad — but it also enters its second century at the forefront of the digital revolution. This move may be seen to some as the Internet "killing" a venerable, century-old publication. To me, it's the evolution of modern journalism; a logical and progressive step in the direction many more will approach in the years to come.