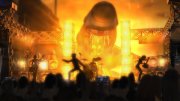 You wanna rock. But between Rock Band 2 and Guitar Hero World Tour, there's a bona fide battle of the bands going on as the holidays approach. Both games promise arena-filling rock-god dreams, and both are good–so let's take a look at what makes each game tick. (I evaluated the Xbox 360 versions of these games, but both are also available on the PlayStation 2, PS3, and Wii.)
The latest Guitar Hero offers many new features, but you have a couple of big questions to answer before taking the stage: Do you invest $180 dollars to form a Rock Band, or do you spend 190 bucks to go on a World Tour? Which game offers the better selection of songs? Which has the better instruments? We had a jam session with Activision Blizzard's newest gig, so we can give you a detailed, hands-on breakdown of what you'd get for your money and how it compares to Rock Band 2.
The Gear
Used to be, you had to own more plastic toy guitars than Eddie Van Halen's kid to play all of the music games out there. But those days are gone: Guitar Hero peripherals still work in Rock Band; and Rock Band controllers now work in Guitar Hero. I tested peripherals back-and-forth between the two games–and they all worked as advertised. That interoperability raises a big question: Which game offers the better controllers?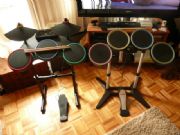 Rock Band 2: At launch, the original Rock Band required roadies to be on call 24/7. Guitars would arbitrarily stop working–and not as a result of ritual smashing after a show. Springs snapped, sensitive switches broke and…well, EA learned from its mistakes. So for Rock Band 2, it produced gear that's a lot sturdier and much more reliable. The design of the wireless guitar changes little: The controller remains whisper quiet, and its faux wood-grain finish helps it make a better go of looking like the real thing. Meanwhile, the sturdier, quieter five-drum kit lets you hear the music–and not yourself banging on the skins. Also, an aftermarket upgrade kit will soon be available for the drums through Mad Catz (one cymbal for $20 or a three-cymbal set for $40). A drummer buddy of mine found that Rock Band's drums were just a hair more sensitive (but more on that in a second).
Guitar Hero World Tour: Adding drums to a game called Guitar Hero? That's the big, obvious change. A six-drum kit, consisting of a kick-pedal, three toms and two high hats is the headline grabber. But it looks as though GHWT is running into a few technical difficulties with the first units out the gate. According to reports, the drum pad sensitivity is off–a problem that, hopefully, a good support policy can help solve. I'm a fan of the pressure-sensitive pads and cymbals, though I wonder how long the kit will last if I start acting like Animal from the Muppets. And anyone who has played drums for real will find it a little disorienting to have the crash cymbal positioned in the middle of the note chart while playing. My first instinct is to bash something toward the far right.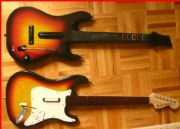 The Guitar Hero axes are definitely more toylike, thanks to distinct colored buttons and an obnoxiously audible click with every note. The bonus, I guess, is that you can pull off an unplugged acoustic set. On the plus side, I really like the addition of a series of slide-guitar-like buttons toward the bottom of the neck. It adds a new dimension to guitar riffs as you slide and tap your way through songs.
Interestingly the new Guitar Hero game can detect the presence of a Rock Band controller and adjust the buttons accordingly (since the RB guitar has fewer features and the RB drums have fewer pads).
The Set Lists
An head-to-head critique of the two games' set lists would be highly subjective (though I could make a pretty strong case that GHWT's inclusion of "Beat It" is prima facie evidence of distinctly un-rock-god-like tendencies.) You can find a complete set list for all Rock Band games on the associated Web site, and similarly you can check guitarhero.com for that game's songs. Some tracks, such as from the Foo Fighters, appear in both series, while battle lines are drawn with exclusive offerings by other musical acts. Missing something? You can always buy more tunes retroactively at the games' online "stores."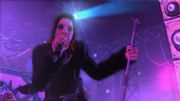 Rock Band 2: Think iTunes for the gaming world. This slickly packaged marketplace hosts a huge selection of full albums and tracks that you can download into the original game or into this year's sequel. In fact, one recent release, AC-DC Live, is available as a stand-alone concert disc that you can play. And though the result will technically not be a Rock Band game, Harmonix (the developer) announced this week that it's working on an untitled Beatles "experimental journey" that will follow the band's entire career. We don't know whether there will be any connection between the two franchises…but I just had to throw that bit of info out there for any Beatles fans in the audience before the journey launches in Q4 2009.
Guitar Hero World Tour: Guitar Hero is still working out some of the kinks–which is to say, songs you bought in previous GH games don't carry over here. There are some popular song choices, but not nearly as many up front. However, GHWT trumps all in user content. Rock Band may be iTunes-ish, but Guitar Hero follows a YouTube model that invites players to record original tracks in Recording Studio mode and upload them for sharing with the community. Then, users download and rate submitted songs. The potential for this feature is fantastic–limited only by what people produce. Me? I'm waiting for someone to re-create Chocolate Rain.
The Extra Features
It's not a huge surprise that the developers add songs with every new rock game at this point. But what are some of the standout features of each game this time around?
Rock Band 2: Rock Band is playable as a solo act, but they call it "Rock Band" for a reason. And really, the game is meant to be played in the massive World Tour mode. The band leader chooses where the band plays as you earn more fans–and then you carefully pick your roadies and band manager to book the next gigs.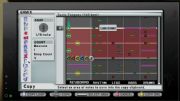 Guitar Hero World Tour: Though obviously a huge jump from earlier Guitar Hero games, a large part of World Tour is a crash program to catch up with what Rock Band already does–create custom rockers, form a group, and take on the world. There is still more of a single-player campaign (the guitar duels from GHIII: Legends of Rock are back and streamlined) in this game than in Rock Band, but the key innovation is the Recording Studio. I already mentioned the YouTubey-sharing angle, but only briefly touched on the music creation aspect of GHWT. In practice you can really dig deep into the game to create music. It's no GarageBand, but it operates on the same principle of recording MIDI data. Up to four players can jump in and lay down tracks. My only warning is that it's a little unwieldy to control. Maybe if the long-rumored DJ Hero game gives you a little more control, it'll go a bit easier. Actually, that last part isn't a joke.
Playing the Game
There's a fundamental difference in the ways Guitar Hero World Tour and Rock Band 2 play out: One punishes you, while the other is all about the music. Let me explain.
Rock Band 2: If you were to buy the game, plug everything in, and throw a party, you'd have all of the songs waiting for you and ready to roll. If you plan on hosting a few of your less-talented buddies, you can resort to No-Fail Mode, which lets everyone blast away regardless of how off-key the playing is. In short, though plenty of challenges are available for the serious gamer, you can also flip a switch and just have fun. Crazy idea, eh?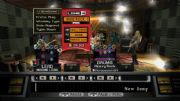 Guitar Hero World Tour: With this game you need to unlock all of the songs you want to hear. So, if you plan to throw a Guitar Hero party at your house, you'll need to make sure to hold a marathon jam session ahead of time to unlock all of the songs. Arguably, performing that initial step gives players a sense of accomplishment–a feeling that they've won the fight for their right to rock. But what about songs you don't like or don't want to play through? To unlock more of the music you want, you have to take the good with the bad.
The Opening Acts
When you walk into your local store, you may see plenty of copies of Rock Revolution on hand–but don't be tempted. This also-ran musical wannabe promises cross-controller compatibility with Rock Band and Guitar Hero. Unfortunately, the only thing it's missing is the fun. Trust me on this one: Move along; there's nothing to see here.
Another item with potential appeal is Nintendo's recently released WiiMusic. This game is a fun and interesting experiment in how to use the WiiFit balance board and the WiiMote in completely different ways–but sometimes you just need the feel of a guitar in your hands or have a drum to bang slowly. Besides, though you can have miniature jam sessions with the Wii, the universe of popular tunes available for you to play is awfully small (unless, of course, Madonna's "Material Girl" and the theme songs for a couple Nintendo games are universe enough for you).
Building the Ultimate Rock Band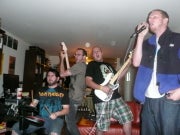 Okay, you have a feel for the ups and downs of the newest Rock Band and Guitar Hero games now. The two are similar and yet different enough to make both of them worthy additions to your collection. Never bought a plastic guitar or a game drum kit in your life? Don't worry, here's the bottom line on the essentials you'll need to cram into your tour bus.
Vocals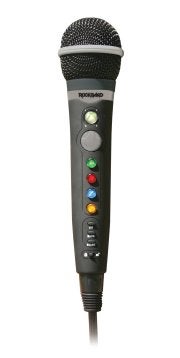 The bundled mics work, but they aren't the best option to use. To make song selections, you need to keep a controller nearby, so you're likely to find yourself fumbling to grip the mic and a controller between sets. Hardly rock-god-worthy. Mad Catz's M.I.C. gets a full 50,000-lighter salute for not only creating a rugged microphone, but also integrating basic controls that let you do everything with a single device, instead of two. The Xbox 360 version of the M.I.C. sells for $60;a PS3 version is coming soon.
Lead and Rhythm Guitars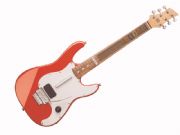 On one level, I'm inclined to recommend that you buy at least one of the Guitar Hero World Tour guitars. Though I'm not a huge fan of the toyish feel or the clickety-clack of the buttons, the new slide button feature low down on the neck is a seriously cool addition to game play. If money is no object, you can get an amped-up version of this new controller from Logitech. The Wireless Guitar Controller Premiere Edition is no laughing matter at $249 for the PS3/PS2 version (no word on an Xbox 360 unit as yet). The cherry-red finish, wooden neck, and metal frets disguise the fact that you're walking around town with what amounts to a toy. It also happens to be primed for use with Guitar Hero's new slide pad.
Bass Guitar Though Rock Band's guitars lack the nifty slider pad that graces the latest GHWT' models, those plastic axes are more sturdily constructed and feel more substantial in my hands. I'm not saying that bassists don't deserve the extra play option, just that they probably won't miss it quite as much.
Drums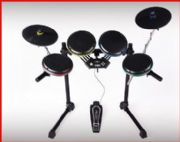 Now comes the last big question, and the answer really depends on personal preference–and how much storage room for a drum kit you have in your living room. I like being ready to rock with a two-cymbal drum kit, no extra peripherals required. And GHWT uses all of those pads well. So I'd probably buy the Guitar Hero-centric drum kit. Of course, if you really want to get into the act, why not buy the real thing–Ion Audio's Drum Rocker? For $300, you get a heavy-duty rig that you can subsequently upgrade to the real deal (with the optional Alesis DM5 professional Drum Module).
Roadies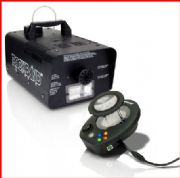 Getting from one gig to next is crucial, especially if you want to keep the heckling to a minimum. After all, people won't mistake you for a real rock icon when they see you schlepping around with a toy guitar slung on your back. Maybe you should consider investing in one of Mad Catz's Coffin Cases. The $90 hard case's exterior looks ominous, and the plush red lining inside pampers your faux axe. Of course, when you get to the venue, you need to put on a good show for the crowd. May I recommend that you check out PDP's over-the-top but amusingly cool Rock Band Stage Kit? For a mere 100 bucks, you can put together a smoke and light show that will delight the neighbors (assuming that they know what's going on and don't call up the fire department in a panic). The Stage Kit does an impressive job of reading the tracks from Rock Band and creating an appropriate light show to intensify the concert experience. Admittedly it's a little on the ridiculous/flashy side–but since when has that been considered a bad thing in rock'n'roll?
Until next time….
Casual Friday columnist and Senior Writer Darren Gladstone geeks out over gadgets, games, and odd uses for humdrum tech. In other words, he's a nerd–and he's okay with that.