The curse of being tech-savvy is that you're often called upon to help friends and family members resolve their computer problems. Of course, as you've probably learned, trying to troubleshoot by phone is maddeningly difficult. It's so much easier when you can actually visit the problematic PC and work your magic directly.
Alas, that's not practical when dealing with geographically undesirable people: a friend across town, a relative across the country, and so on. Until science invents Star Trek-style transporters so you can beam yourself anywhere in an instant, you'll have to rely on the next best thing: remote-control software.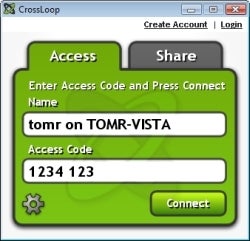 This software lets you take full control of another PC, just as though you were sitting in front of it. There are numerous programs that make this possible, but I'm partial to CrossLoop. Just click the Free Download button to download and install the small client app on your PC, then instruct the other person to do likewise.
Next, he or she clicks the Share tab and reads you the access code listed there, which you type into the client at your end. Click Connect and presto: You're connected. Now you have total control of the other system, so you can find the missing file, install the anti-virus software, figure out why the printer's not printing, or whatever.
Free and blissfully easy to use, CrossLoop is a must for anyone trying to troubleshoot a remote PC.