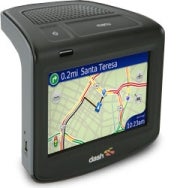 Dash Navigation, makers of the innovative Web-connected Dash Express GPS device, is getting out of the highly competitive GPS navigation device business. The company says it will instead focus on licensing its software and service to other vendors of GPS devices, including not only dedicated navigation systems but cell phones and other consumer electronics.
The Dash Express was notable for its robust and seamless Internet connectivity (via GSM cellular and Wi-Fi networks) that supported real-time searches, live traffic reports from other Dash users, and easy data entry via the Web. But it was pricey: The device itself cost $400, and the Internet services cost $10 to $13 a month (depending on whether you prepaid for a year or not).
The company has reportedly trimmed two-thirds of its workforce. However a company spokeswoman says Dash Navigation will continue to support Internet services to those who purchased the Dash Express and subscribed to its Internet service. "In fact, a new software update is planned later this year," the spokeswoman wrote in response to my e-mail query.