When it comes to children and the Internet, most parents focus on safe Web browsing. That's understandable, given that the Web can sometimes seem like one big Red Light District. But the Web isn't the only source of objectionable material online. E-mail can be just as bad.
Surely, you say, there must be a simple way to let kids exchange messages with family members and friends while protecting them from online predators, crude spam, phishing messages, and the like. In other words, if there's a NetNanny, there must be a "MailNanny" too, right? Well, not really. But this quick guide will help you pick the most age-appropriate e-mail setup and give you tips to keep the deluge of online indecency from reaching your little ones.
Anybody familiar with Gmail knows that it does a pretty good job of blocking spam and viruses, so why not just create a new account for your teen or tween? You could, but Gmail's browser-based interface isn't exactly kid-friendly. Plus, it offers no parental controls, such as the highly desirable option of creating an approved-senders list (grandma, yes; chunkylover53@aol.com, no). Some creative Boolean filtering might do the trick, but who has the time (or degree in computer science) for all that?
As a busy parent, I certainly don't have that kind of time, which is why I'm test-driving three other options: AOL, Windows Live Mail, and a service called ZooBuh. Each lets you set up individual accounts for your kids and helps enforce various usage restrictions, such as who they can e-mail and who can e-mail them. Here's what you need to know about all three.
Kids + AOL = KOL
Cross AOL's longstanding free e-mail service with a child-oriented Web portal, and what do you get? KOL, which offers not only games, music, movies, and other stuff aimed at teens and tweens, but also free e-mail accounts with robust parental controls.
To take advantage of them, you'll first need an AOL account of your own. If you don't already have one, head to AOL.com, click Free Mail, and follow the instructions. From there, visit AOL Parental Controls and click the appropriate age group–Kid, Teen, or Mature Teen–for your child. Next, click Create Account, and then fill out the form requesting your child's name, desired screen name, and password.
AOL has several bazillion screen names already in use, so you'll have to choose something unusual or nonsensical–always a good idea anyway, as a child's screen name shouldn't contain any personal information. As for the password, make it something easy for your child to remember, but still robust enough to thwart hackers. For example, insert numbers between the letters of your child's name, as in "s1a2r3a4h5".
Once you've completed the sign-up process, you'll have to download and install AOL's Windows-only Parental Controls software. With that step done, return to the Parental Controls Web site, where you'll see a green Settings area for your accounts. Click the Edit button next to your child's account, and then scroll down to the E-mail Controls box and click Edit E-mail Settings.
By default KOL allows mail from all senders to come through to your child's account, but you can set up a filter to allow only known senders–arguably the better approach for younger kids. In the 'Spam Filters by Address' menu, choose Allow mail only from addresses I specify. Next, type the address of each person who is allowed to e-mail your child (school friends, family members), clicking Add after each one. If your little one receives a message from someone not on the list, the server will automatically delete it or route it to the Spam folder, depending on which option you select. Note that AOL also lets you block any mail containing pictures or files.
Unfortunately, AOL doesn't give you a way to block outbound e-mail. But it does give you control over instant messaging, chat rooms, and downloads, and even lets you set up connection-time limits and retrieve activity reports. Not bad, given the price tag: It's all free.
When you're done with setup, head to the KOL site and show your son or daughter how to sign in, check and send e-mail, add contacts, and so on. It's an uncluttered, easy-to-use environment, one that kids should take to in no time. And it offers the peace of mind that comes from knowing that your child's inbox will remain free of unsuitable stuff.
Live From Microsoft, It's Family Safety!
I'm not sure who borrowed the playbook from whom, but Microsoft's Windows Live Family Safety works a lot like AOL's Parental Controls do. First, you sign up for a Windows Live ID for both yourself and your child. (Doing so nets you individual Windows Live Hotmail accounts.) Then, you install Microsoft's Family Safety software. And finally, you configure everything by way of a Web control panel.
Getting started with Family Safety is pretty straightforward: Click the Get Started button and follow the prompts. You can create a Windows Live ID if you need one or sign in with an existing one. Either way, you'll land at the Family Safety settings page, where you can add one or more children and, if desired, another parent. (Why should you have all the fun?) This is also the place to create a trusted-contacts list, one that dictates who's approved to send e-mail to your child as well as who your child can e-mail. That gives Windows Live a slight edge over AOL, which offers only inbound protection.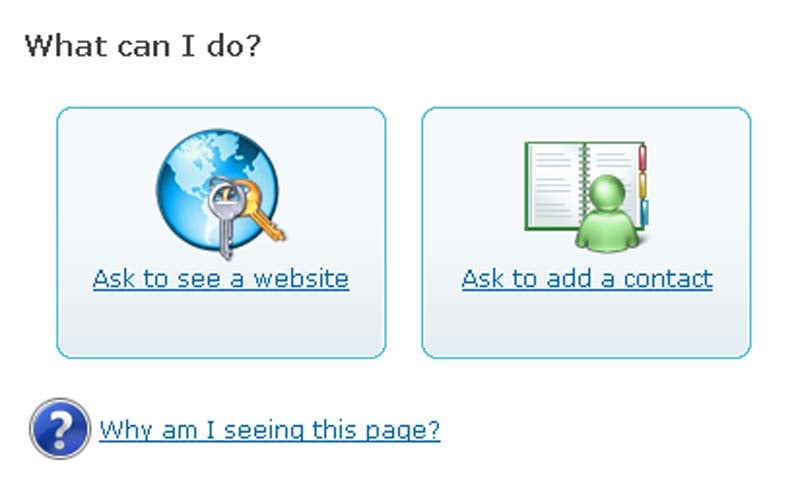 What happens if Junior wants to contact, say, a new school friend who isn't on the contact list? He can visit the Family Safety site and ask your permission via e-mail or even instant message. When you receive the request, you can hop onto the Family Safety site and–if the new kid checks out–give your digital blessing on the spot.
If there's a drawback to giving your child a Family Safety-protected Windows Live Hotmail account, it's that the Web interface lacks KOL's kid-friendliness. It isn't complicated by any means, but younger users may find it intimidating.
Hey, Microsoft: You have the parental controls down pat–now how about offering a Windows Live "Kidmail" interface with oversize buttons and cutesy icons?
From A to ZooBuh
If it sounds like AOL and Microsoft make you jump through considerable hoops to set up child-safe e-mail accounts, it's because, well, they do. That's why I'm partial to ZooBuh, a Web-based mail service designed expressly with young users in mind. It's a cinch to set up, it offers more and better controls than AOL or Microsoft do, and it requires no extra software.
ZooBuh gives you total control over your children's e-mail universe. By default they can receive mail only from users in the approved-contact list and can send mail only to those same approved users–but you can change either setting as you see fit. You can have copies of incoming or outgoing messages sent to your e-mail address, remove images or links from your child's received mail, and block some or all attachments. ZooBuh also has a bad-words filter, with a box for adding your own unwanted words.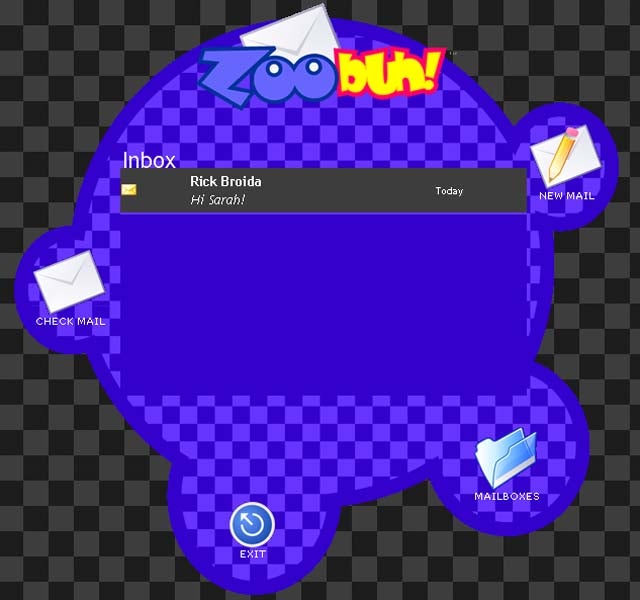 Both AOL and Microsoft offer controls more or less on a par with those, but what really sets ZooBuh apart is its interface: It's colorful, simplistic, and blissfully free of advertising. It even has an Easy version, aimed at younger users, that's even more colorful and simplistic. In short, this is what e-mail for kids should look like.
As you might have guessed by now, ZooBuh isn't free–but it's admirably inexpensive. Following a 30-day trial (which doesn't require a credit card), the service charges just $1 per month for each account. That's a small price to pay for safe, child-friendly e-mail that takes all of about 5 minutes to set up. Your kids will thank you.