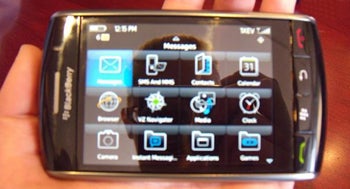 All eyes are now on Research In Motion's forthcoming BlackBerry Storm which is due to be released sometime this month. RIM's new smartphone is one of the strongest contenders to Apple's iPhone popularity. The guys over at T3 in the UK got their hands on what it looks to be a prototype of the BlackBerry Storm. Check out the in detail pictures below.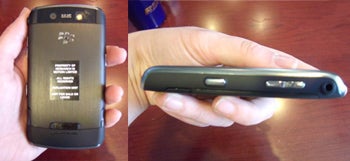 The BlackBerry Storm is thicker than the iPhone but unlike Apple's device, Storm sports a 3.2 megapixel autofocus camera with flash and video recording . On the left side of the phone a camera shutter is placed below the volume controls and the standard 3.5mm headphone plug.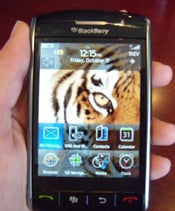 The software interface on the BlackBerry Storm is keeping the same design cues from the BlackBerry Bold. Unlike the Bold though, the storm has two lines of applications shortcuts at the bottom of the screen. Reportedly, this interface will be used from on future RIM devices such as the sequel of the Curve model.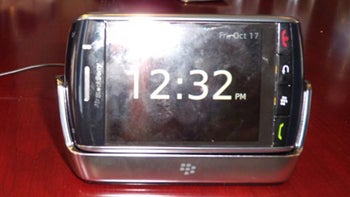 The retail package for the Storm is very similar with Bold's, containing a charger, a PC connectivity cable and in-ear headphones that look identical to the headphones coming with the Bold. The leather holster is also present (like the Bold's) and as extra bling, the Storm comes with a silver horizontal cradle (pictured above) used for charging and connecting to a PC.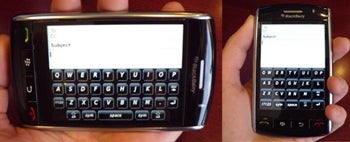 The BlackBerry Storm features two on-screen keyboards. A full QWERTY keyboard can be used in landscape mode (above) while in portrait mode a BlackBerry Pearl-like keyboard is displayed. So far, iPhone users will have something to crave for when the Storm is out, as Apple's smartphone does not feature by default a wide-format keyboard when sending emails.
Also, check below the Verizon released video depicting user interaction with the BlackBerry Storm, showing the email application (both landscape and portrait), the phone app, the web browser and the integrated GPS application.
*All photos courtesy of T3.com
*Video courtesy of MobileBurn.com