Football and church have long been in a battle for dominance. For years, dedicated sports fans tucked tiny receivers in their Sunday best and listened to the game during the sermon. Now, you can watch the punts from the pews: Spring will be broadcasting NFL games on phones that support the carrier's TV service.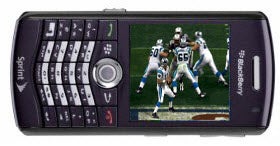 Sprint has formed a partnership with the NFL Network to broadcast the station's eight exclusive games, starting today with the game between the Cleveland Browns and the Denver Broncos. The service's $15 monthly package (also included in Sprint's $70 Everything plan) includes audio streams of every regular season game, so if you're into the earbuds, they've also got you covered.
The NFL Network has struggled to reach a larger audience, and in its attempts to become part of basic cable programming packages, it has been left out of the huddle. The NFL Network is currently only available in 40 percent of American households. This exclusive partnership with Sprint gives the station much-needed exposure and may boost their availability.
Cellular streaming video was also used during the 2008 Beijing Olympics, and proved to be a technological success.
Sprint has put $50 million in its NFL deal–and it's unclear how they intend to get it back. Subscriber fees will help, and advertising might work, but on such a small screen, it'd likely get really annoying.
Nevertheless, Sprint's NFL package sounds essential to sports fans who, church or not, absolutely need to watch the game.
Note: The image used here is an illustration of how this service might look, not an actual photograph.