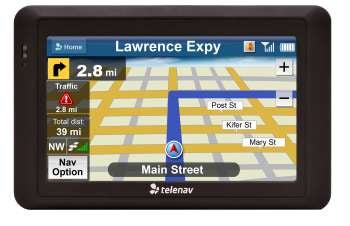 TeleNav, a veteran creator of GPS navigation software for cell phones and other mobile devices, enters the competitive GPS hardware market today with the TeleNav Shotgun, a $299 personal navigation device with optional cellular-based Internet service to update its points-of-interest database, provide real-time traffic and fuel-price data, and enable destination entry via Telenav's Web site and browser plug-ins.
Building on the company's expertise with GPS phones, the Shotgun comes with a preinstalled SIM card and three free months of TeleNav Connected Service. The device is based on Windows Mobile, but does not use any Windows Mobile sync features. However subscribers to the service can use free plug-ins for Firefox, Internet Explorer and the Google Toolbar to easily send addresses on Web pages to the device.
Ironically, the Shotgun appears just a week after Dash Navigation announced that it would be ending production of its groundbreaking Dash Express, the only other GPS navigation device to date with built-in cellular connectivity (which generally is more robust and easier to use than other connections used by GPS devices, such as FM radio, or through Bluetooth-connected cell phones).
However, cellular connectivity doesn't come cheap. After the free trial, TeleNav Connected Service will cost roughly the same as Dash's service (TeleNav is charging $10-$12 a month, depending on whether you pay as you go or are willing to pre-pay), but isn't as innovative. It doesn't perform regular Yahoo searches, for example, and its APIs aren't available for other companies to create custom location-based services (Dash offered this feature). However, the company believes the business travelers it targets will be willing to pay for easy access to the bread-and-butter data services it does deliver.
The Shotgun's compact form factor (it weighs only a tad more than four ounces, is only three-quarters of an inch thick, and has a 4.3-inch LCD display) may also appeal more to frequent travelers than the rather bulky Dash, which would not be suitable for tossing into a purse or briefcase. We'll be taking a closer look in the next few days.