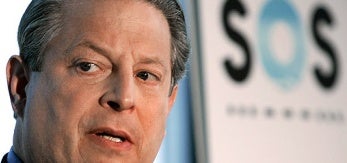 At the Web 2.0 Conference on Friday, I walked around back of the hotel and waited by the service entrance for Al Gore and his posse to show up. Gore was scheduled to cap off the event with a short, late afternoon speech.
"The Eagle has landed" said the hotel security guy, and soon Gore came walking up the sidewalk with his big blue suit and gray-white hair, flanked by assistants. Some poorly timed J-school zeal rose up inside me, and I stepped out in front of him and shook his hand. Gore gave a slight smile, mixed with a "are you some kinda John Hinkley Jr. type?" look.
Then I asked my Big Question: "Mr. Gore if you're offered the job of Environment Czar in the Obama administration will you take it?"
No such cabinet position exists today, but it's high time, and many have already said that Gore is the right man for the job. (It should be said that Arnold Schwarzenegger is probably the front-runner for such a job today, at least in the rumor mill.)
Gore is more qualified than Schwarzenegger (and he's a Democrat), but, the problem is, Gore, who would during his remarks Friday refer to himself as a "recovering politician," might have no interest in politics or policymaking left in him.
Anyway, back on the sidewalk, Gore breezed by me, and said nothing for three or four paces. As he entered the building he said "are you a reporter?" After I responded yes, he said "I'm sorry I'm not giving interviews right now." Gore once worked as a reporter in Tennessee.
It would have been cool if he would have commented, and I realize I was a little out of place ambushing him with that question at a tech event.
Thing is, I really do want to know if Gore would take that job in the Obama administration. During his remarks to the packed room here Friday afternoon, Gore laid out the main poles of a nationwide public works project that would largely replace our foreign oil dependence with a dependence on solar and wind power. Gore envisions a nationwide "Smart Grid"–a massive underground network of electrical power lines that would be powered by massive solar panel installations in the Southwest, and huge wind turbine installations in the Pacific Northwest. The Smart grid would dole out power and regulate itself using 21st Century computer technology, Gore said. Gore said such a system would cost $600 billion to build, but that it would pay for itself quickly.
Perhaps as importantly, when you see Gore speak, you really "get" what an urgent situation we're in. He has a way of making it hit you in the fear centers of the brain, causing you to think "We've got to do something–now." That ability alone, makes Gore important.
He says his message is not getting through. When asked about the goal of his movie "An Inconvenient Truth"–to wake people up to an approaching global, environmental crisis-Gore said "I think it's been a failure . . . I feel, in a sense, that I've failed badly."
The New York Times has a more complete account of Gore's comments inside the event Friday.
I think it's a shame that Al Gore didn't get a chance to be president. I'm not commenting on the Florida debacle in 2000 or anything partisan like that. I'm just saying that I believe Gore is a man of moment, and he should have been given four years at the helm, if for no other reason than to get the U.S. up to speed with the rest of the world on pushing down emissions.
But that's the past. I only wonder if a cabinet post might give Gore the second chance he needs to get his message across.