With the cost of travel rising, Web conferences using tools such as Microsoft's Live Meeting and WebEx have become a popular substitute for in-person presentations. But such services depend on desktop clients that aren't always handy for business travelers.
A startup called PhoneTopp hopes to address that shortcoming with its pioneering eponymous software and service for bringing Web conferencing to smart phones. Now in alpha, with a public beta set for early 2009, PhoneTopp will support Adobe Connect, Live Meeting, and WebEx Web conferences on BlackBerry devices, iPhones, and Windows Mobile handsets, the company says.
PhoneTopp CEO Tom Barsi, who was slated to formally unveil the product at DealMaker Media's Under the Radar Conference today, says that businesses that sign up for PhoneTopp will provide account information for their supported Web conference service, and conference participants will download client software on their handset.
After that, whenever a business sets up a Web conference, PhoneTopp will automatically be notified and provided with the phone numbers of invited mobile participants (who will continue to receive invitations as usual). When the conference time rolls around, the mobile participant will receive a phone call (identified as being from the Web conferencing service). After accepting the call, the participant will launch the application, which will automatically enter the conference.
PhoneTopp is optimized for PowerPoint presentations. Its interface features several controls, which appear as buttons along the right and left edges of the presentation content. The buttons on the left allow the participant to navigate through the slides (something desktop participants don't usually get to do).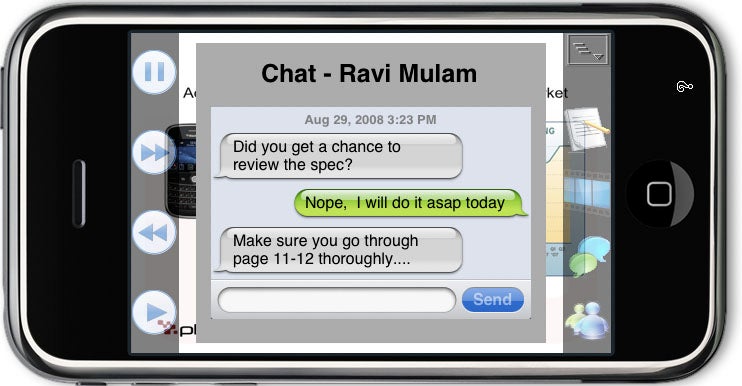 The buttons on the right afford access to additional screen elements such as a chat window (the button will light up when a new chat message is received), a list of participants, and notes. Using a headset, mobile participants will be able to talk while viewing the presentation.
PhoneTopp will be a subscription service, Barsi says, with fees expected to run about $8 a month per meeting participant (on top of the usual meeting-service charges). We saw only a mock-up version of PhoneTopp on Barsi's iPhone, so it will be interesting to find out how well the service works over real-world networks.