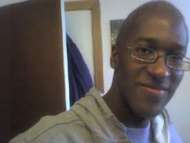 Emru Townsend, a frequent contributor to this site, died in Montreal last night after a year-long battle against leukemia and a condition called Monosomy 7.
PC World readers may remember Emru for his wry take on tech in stories such as The 10 Worst Games of All Time, 5 Videos You Won't See on YouTube, and, more recently, 5 Movies Starring Computers. A prolific blogger and freelancer, he wrote extensively about pop culture and animation as well as technology.
But ever since his disease was diagnosed last December, he had devoted most of his considerable skill as a wordsmith and observer to a frank chronicle of his struggle against an increasingly implacable illness.
Townsend wasn't just writing a legacy for his wife Vicky, son Max and sister Tamu. With their help and support, and using technology communication tools he'd mastered over the years, he made his experience the cornerstone of a crusade to raise public awareness about the need for potential bone marrow donors, especially from minority groups who are underrepresented in donor registries. (Although he lived and died in Montreal, Quebec, Townsend was the son of African-Caribbeans.) You can read Emru's account of his journey on the Web site he and his family created, HealEmru.com.
Emru himself did find a match and in September he received a bone marrow transplant, but sadly his disease did not go into remission. Tamu sent word of his passing through a mailing list she and Emru set up for his many friends. "He taught me how to live," she wrote. "He taught me how you are supposed to die…. He taught a lot of people a lot of things, but he spent 2008 teaching people how to reach out to one another in a whole new way. If you carry some of this forward, it will be a year even better spent."
My parents are Canadian immigrants who live in Montreal, too, and last March while visiting them I met Emru and his wife for brunch in a suburban mall the day after a major snowstorm. We shared a hearty meal (and reminisced about another brunch in Las Vegas at the Consumer Electronics Show a few years earlier) and then walked around a bit before I headed back to my parents' downtown apartment.
I'm glad I got to see him that day, and extend to him in person the best wishes of the PC World family; tonight, we extend to his family our deepest sympathy.