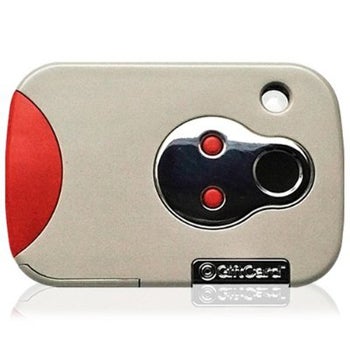 At a time when electronics retailers like Circuit City are struggling to stay alive, Best Buy and Target are debuting brilliant new moves for the holiday season: gift cards with built-in gadgets. For real.
The Speaker Card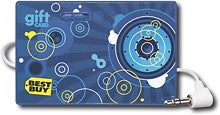 First up: Best Buy's new speaker cards. The cards contain mini-headphone jacks that let you plug in any MP3 player or audio device and actually play songs through tiny embedded speakers. The cards — available starting this week in $50, $100, or $200 values — cost the same as any other regular gift card. You pay only the dollar value. And, unlike those pesky Simon cards, these things don't expire or lose value over time.
The Camera Card
Not to be outdone, Target's come up with a new digital camera gift card also up for grabs. The camera card offers 1.2 megapixel functionality with 8MB of on-board memory and comes with its own USB cord and driver disk for computer connections. You even get a coupon for 40 free prints with it. The card runs on two replaceable AAA batteries.
High-Tech Trend
Including these sorts of innovative extras is a trend we're bound to see explode as retailers search for ways to get people to start spending again. Now, to be sure, the embedded gadgets are not going to be the greatest quality. I can't imagine anyone will replace his speakers with the Best Buy card or ditch his camera for the Target device.
What they do provide, though, is a novelty — and a pretty intriguing one at that. Without doubt, the added gadgets will help these stores sell a lot more cards than they might have otherwise. If consumers are considering a gift card, why wouldn't they pick the super spiffy high-tech one over a plain old plastic alternative? Particularly when there's no extra cost involved, it's a win for both the consumer and the retailer.
I'm admittedly a gadget geek, but I've gotta think this is a very smart way to get people to put their financial concerns aside, open up their wallets, and commit their cash to a store that's offering something different. Hell, I might just go buy a couple this afternoon — for myself, that is.