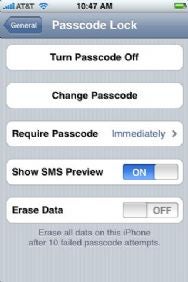 I've never lost a smartphone, but I've felt dumb after temporarily misplacing a device. I don't care about the cost of replacing a BlackBerry or iPhone; the lost data is its value. It takes a special thief or opportunist to cash in on your cached data, but why take the chance? Lock down your smartphone with a password.
On an iPhone, go to Settings, General, Passcode Lock. Enter a four-digit number. Avoid reusing addresses, phone numbers, or other public info. Tap Require Passcode to set how often you'll be prompted to enter a code after your most recent unlock. I set mine for Immediately to ask every time I activate the phone. Turn Erase Data on if you want the phone to clear its memory after 10 incorrect password attempts. Finally, back in the General Settings, verify that Auto-Lock is on so the phone will go to sleep when idle and ask for the password when revived.
On a typical BlackBerry, choose Password in the device options. Choose Enabled, and type a password. Again, think of a password that doesn't rely on publicly known information, such as a name. If you want to limit the number of tries before the phone erases itself, use the Number of Password Attempts field. Press Menu, and select Save.
Your IT department-if you have one-may be able to remotely erase a phone, depending on its configuration. But a password will keep it locked while you contact those techs. Now where did you put that phone number?